New era of regional cooperation born: Birth of the Association of Caribbean States
Now it is time for a Caribbean Maritime Exchange
Jul 24, 2014
At the end of the 1980s, the Caribbean Community (CARICOM) Heads of Government felt a growing exigency to forge closer relations with their neighbors in the Caribbean Basin. This desire to widen the integration process sought to embrace all those washed by the Caribbean Sea, including other Caribbean States, Central America and the littorals of South America.
Against this backdrop, CARICOM agreed to establish The West Indian Commission (WIC), in July 1989 in Grenada, under the chairmanship of Sir Shridath Ramphal, to entrust an analysis of how to successfully create a mechanism for cooperation with their neighbors.
A few years later in 1992, this independent body proposed in the report 'A Time for Action' the creation of an Association of Caribbean States (ACS). This Association would potentially become the largest integration movement in the Caribbean, expanding through unprecedented geographical scope.
The proposal came on the heels of the need for CARICOM to pursue further cooperation and strengthen its bargaining power in the global economy by creating an enlarged economic space. Member Countries envisioned the potential of this new enterprise which would comprise 200 million people in Latin America and the Caribbean.
There was general unanimity at the First Special Meeting of the Conference of CARICOM in October 1992, where Heads of Government agreed to consult with other states on the recommendation of the WIC. Follow up discussions occurred when the CARICOM Bureau met with government representatives from Colombia, Cuba, the Dominican Republic and Venezuela to discuss the proposal. These countries wholeheartedly welcomed the idea. Further diplomatic discourse continued at the CARICOM/Central American Meeting in San Pedro Sula, Honduras.
The timing of the proposal gained momentum following failed negotiations to implement of the North American Free Trade Agreement (NAFTA) and the European Union policies on trade. The fast changing international economic climate, coupled with the liberalization measures adopted by Latin American and Caribbean countries, accelerated the indispensable appetite for integration and cooperation at the regional level, and for the development of closer economic geographical linkages, particularly in the area of trade and investment to boost economic competitiveness.
During the CARICOM-Central American Ministerial Summit in Kingston, Jamaica, May 1993, the Ministers of the respective countries welcomed the proposal to create the ACS. Thereafter, significant advancements and forthright commitments were made during the Summit of Heads of State and Government of CARICOM, Suriname and the Group of Three (G3), (Colombia, Mexico and Venezuela), in Port of Spain, Trinidad and Tobago, October 1993, where a timeline was set for the establishment of the ACS.
The negotiation of the Convention Establishing the ACS began in a workshop held in Kingston, Jamaica, in March 1994. Two meetings, one in Santo Domingo, Dominican Republic, and a final one in Mexico City were convened. The main purpose was to agree on the nature, scope and objectives of the Association as well as the way in which countries, Overseas Caribbean Territories and non-governmental organizations would participate.
By July 1994, the growth of regional integration was steadily underway. At the Fifteenth Meeting of the Conference of Heads of Government of the Caribbean Community, 4-7 July 1994, Bridgetown, Barbados, Heads of Government expressed their eagerness to sign the Convention Establishing the ACS during that same month.
Against this backdrop of creating a new era of regional integration characterized by the strengthening of cooperation, the Convention establishing the Association of Caribbean States was signed on July 24th, 1994 in Cartagena de Indias, Colombia.
As enshrined in this Convention, the Association is an organization for consultation, cooperation and concerted action, whose purpose is to identify and promote the implementation of policies and programs. The convention entered into force on August 4th, 1995.
At the signing of the Convention, this organization of the Wider Caribbean, comprised of 25 Members and 3 Associate Members was created as a vehicle for functional cooperation among the countries which shared a common patrimony, the Caribbean Sea.
The areas of cooperation primarily included trade, transport and tourism. Other priority actions such as natural and environmental disasters, the Caribbean Sea and social, cultural, scientific and technological development issues were included in the Work Program of the ACS at the First Ministerial Council Meeting held in Guatemala, December 1996.
No other mechanism for cooperation in the Wider Caribbean espoused such an expansive call. From the beginning, four regional groups were distinguished: CARICOM, the Group of Three, Central America and the Non-Grouped (Cuba, Panama and Dominican Republic). The Overseas Territories were included as Associate Members. The creation of the ACS represented a strategic opportunity to develop new forms of regional cooperation.
In the months following the signing of the Convention, details of the finer workings of the Association were to be negotiated. Among the main issues: a Secretary General had to be appointed, a Host Country for the Headquarters had to be selected and a budget determined.
The First Summit of the ACS was convened on August 17th and 18th, 1995 in Port of Spain, Trinidad and Tobago. At this Meeting, Trinidad and Tobago was selected as the Headquarters of the Association, after the Dominican Republic and Venezuela previously withdrew their nominations. Dr. Simon Molina Duarte, of Venezuelan nationality, was at the helm of this organization as the first Secretary General of the ACS, and the Council elected Mexico, as Chair of the Ministerial Council for a period of one year, under the chairmanship of Secretary of Foreign Affairs of Mexico, José Ángel Gurría.
In Guatemala on November 30th and December 1st 1995, the Ministerial Council held its first regular meeting and adopted 12 agreements. Among those was the Work Program of the ACS, the terms of participation of Associates Members, Observers and Social Actors, rules of procedure of the Ministerial Council and the Regulations of Secretariat.
This unique, supranational and expansive organization in the Greater Caribbean, charged with the optimism, vitality and support of their leaders, has demonstrated the will to frontally address the new challenges facing the hemisphere in a changing global village.
Leaders of the day took a bold step and embarked on a journey to collectively create new opportunities for their territories. Today, after twenty years of existence, the ACS has survived many challenges and has emerged revitalized, continuing to promote functional cooperation among its Member States.
However the time has come to recognize that all the ACS members are port states who can only prosper through efficient and honest waterborne trade. There must be some leaders who recognize the benefits of a Caribbean Maritime Exchange and its potential to attract grants and subsidies designed to improve customs, drayage, dockage, scheduling, payments, labor relations, warehousing and security.
England's new Logistics Hub: Implications for Western Jamaica's similar project
Scores of residents, business luminaries, and public and private sector stakeholders in the second city Montego Bay, Jamaica were engaged in a riveting exchange of ideas, research and thinking among panellists and presenters at the Logistics Hub symposium at the Wexford Hotel on Thursday May 8, 2014.
The Caribbean Maritime Institute and The University of the West Indies, Western Campus in association with The Montego Bay Chamber of Commerce hosted a symposium to unearth new knowledge, promote discourse and increase awareness about the much talked about Logistics Hub initiative. The discussions were framed under the theme "The Logistics Hub: Implications for Western Jamaica" but they were geared towards providing a greater understanding about the total concept that encompasses the entire country.
This symposium comprised of a plenary session, a luncheon and three panel discussions to cover the various aspects of interest and relevance. Main themes punctuating the proceedings were the fact that the logistics hub is not a place but a development concept to drive productivity and efficiency and that development has no nationality. "Jamaica's" logistics hub will therefore need the collaboration of the international community, foreign investment, and input from academia, environmentalists, the government and developers to be a success.
Dr. Geneive Brown Metzger, Caribbean trade and investment analyst based in New York and former Jamaican Consul General, chaired the opening panel, "Socio-economic Implications of the Logistics Hub." The panelists included Sharon Fflokes Abrahams, minister of state in the Ministry of Industry, Investment and Commerce and Edmond Bartlett, opposition spokesperson on the respective portfolio.
THE GOAT ISLANDS: AN INTERNATIONAL GATEWAY PORT
Dr. Fritz Pinnock, executive director of the Caribbean Maritime Institute and main speaker for the plenary, believes that "this was an appropriate platform to promote positive discourse and increase awareness about how the logistics hub concept will work for the nation in a practical way; sharing in a comprehensive manner, how its development will affect residents in western Jamaica, their families, future plans and expectations and their livelihood." Using this as an opportunity to explain in palatable terms, the concept of this new development, Pinnock compared Jamaica's growth aspirations to those of Singapore and the famed London gateway. To make the London Gateway (which nears completion) a reality, the use of arable land and habits was inevitable.
The gateway is physically located in one of the most ecologically sensitive areas of England, and its construction involved the dredging of 60 miles of the River Thames, resulting in over 20 million cubic metres of dredged sand -; enough to accommodate 12000 Olympic size swimming pools. As a mitigating initiative, researchers, ecologists and environmentalists have embarked on a massive project to relocate tens of thousands of reptiles and wildlife to new sanctuaries. Fifty three hectres of land was identified for rehabilitation for various protected species. This is just one project to be undertaken to ensure that the 1.5 billion pound global gateway port and logistics park, which will create 12,000 new jobs, in Britain is built without resulting in adverse environment damage. This custom built deep sea gateway port, which allows England to reinvent themself, has an unrivalled location that will increase efficiency.
Similarly, Jamaica will need to undertake a massive reconstruction of road and sea networks to create interconnectivity between air, land and sea modes of transportation, while finding creative ways of preserving the environment. The development plans for the Goat Islands is similar to that of The London Gateway. It too is envisioned as an international gateway of economic trade, facilitated by Jamaica, because of its location. However, given that the Goat Islands is already located in a highly industrial environment, the environmental impact will be far less. Even so as a precautionary measure, Pinnock is recommending that we adopt Britain's approach to sustainable development which embraces partnership.
COLLABORATION IS KEY
The luncheon featured a special presentation from Professor Gordon Shirley, CEO and president of the Port Authority of Jamaica. He presented the development plans for the concept, and explained that Western Jamaica plays an important role in this initiative as it is the core of our service industries, comprising of tourism and information communication technology sectors. He noted that plans are afoot to develop an integrated advanced port communication system to facilitate the level of commercial activities to be accommodated by this investment.
President of the Montego Bay Chamber of Commerce, Nathan Robb, echoed the need for collaborative thinking among all stakeholders for the logistics growth strategy to work for all Jamaicans. In addition, the symposium was attended by distinguished governmental (ministerial) officials, renowned specialists in logistics, supply chain management and sustainable development, as well as members of academia, industry practitioners and consultants, researchers, policymakers and an impressive line-up of panellists from the hotel and tourism industries, environmental groups and commerce. These included Sharon Fflokes Abrahams, minister of state in the Ministry of Industry, Investment and Commerce and Edmond Bartlett, opposition spokesperson on the respective portfolio,.
The aim of the symposium was to offer an invaluable opportunity for interested individuals and groups to learn more about the myriad of issues relating to the development of a logistics hub in general and the implications for Western Jamaica in particular. It was a forum for discussion, collaboration and intellectual exchange for all participants.
THE PRESIDENT'S TRADE POLICY AGENDA:
Supporting Jobs and Economic Growth through Trade
Ambassador Michael Froman
United States Trade Representative
March 3, 2014
The White House has issued a 17 page statement of the President's trade policy agenda for 2014 with nine months left in the year.
It says, "The Obama Administration is pursuing an ambitious trade policy that supports jobs, promotes growth and strengthens the middle class. We are opening markets and raising standards, consistent with our values."
"Thanks to these efforts," it says, "U.S. producers and exporters are selling more goods and services around the world than ever before, and we are steadily raising environmental and labor standards in our partner countries. In 2014, we look forward to engaging with our global trading partners, with Congress, and
with the American public to ensure that trade continues to move the country forward toward President Obama's goal of an economy that will sustain and grow a thriving American middle class in the 21st century."
It says, "The President's Trade Agenda for 2014 describes how the Administration will continue to use every available policy tool over the next year – and continue to develop new tools to pursue the most efficient and productive pathways to expand trade and support economic growth. Our efforts in 2014 will build on many successful 2013 initiatives."
And it spends 248 words out of the entire 17 page document discussing in depth the administration's trade plans for grow, deepen and hold meetings about trade in "The Americas."
The Americas
The United States maintains strong economic ties with its trading partners throughout the Western Hemisphere. Boasting a combined goods and services trade totaling nearly $2 trillion, we seek to build Strong growth in trade and investment flows between the United States and Brazil continue to promote
job-supporting, two way trade and investment with Brazil through the U.S.-Brazil Agreement on Trade and Economic Cooperation.
In 2014, we will work to continue to grow our exports and deepen our trade and investment policy engagement with Brazil. In addition, we will continue to work with Brazil to negotiate a long-term mutually agreeable solution to the ongoing WTO dispute on cotton, preventing costly retaliatory countermeasures from damaging American consumers and exports.
Trade between the United States and Central America and the Caribbean remains strong. Consequently, the United States will continue to work with our partners in Central America and the Dominican Republic, both bilaterally and through the CAFTA-DR, to promote job-supporting, trade and investment.
In 2014, the United States will work to deepen trade its relationships with CAFTA-DR partners to strengthen implementation of the trade agreement, facilitate trade, and address outstanding issues related to IP, SPS measures, worker rights, and customs and border measures, among others.
In 2014, we intend to hold our second meeting under the updated U.S.-CARICOM Trade and Investment Framework Agreement signed by Vice President Biden and President Martelly of Haiti in 2013 as we continue to deepen engagement and expand opportunities for trade with these key neighboring countries.
Critics urge caution on cruise port deal
From America, a warning over port deals turned sour
Empty and abandoned cruise terminals, gated ports that marginalize local businesses, struggling Caribbean islands counting the cost of lost tourist revenues: Hard luck stories of port deals turned sour span the Atlantic from the United States to Antigua.
In Houston, Texas, in Mobile, Alabama, and across the water in Falmouth, Jamaica, doubts have quickly emerged about the wisdom of building expensive new facilities, with well-meaning politicians finding themselves on the wrong side of deals they assumed would bring riches to their communities.
Today, two established cruise industry critics – both expert witnesses at U.S. Congressional hearings on regulating the industry – warn Cayman Islands' politicians they must tread carefully to avoid a similar fate.
In crafting a business case soliciting partners to build two new piers in George Town, the Cayman Islands government has seemed eager to avoid many of the pitfalls that have plagued other port deals.
By targeting a public/private partnership that involves a cruise line investing between US$100 million and US$200 million up front, the government hopes to avoid the struggles of Houston and Mobile, where taxpayers footed the bill for piers that have hardly been used.
By insisting on a port that involves no shore-side retail development and retaining Port Authority control of the facility, the Cayman Islands government hopes to prevent local businesses from being shut out – a common complaint in Falmouth.
Tourism Minister Moses Kirkconnell said Cayman's location and its reputation as a sophisticated, low-crime destination makes it an attractive location for cruise travel. He believes a deal involving cruise lines paying for the piers will be possible without compromising Caymanian business interests. "We do hold some cards here," he added.
A favorable deal for Cayman is possible, but far from inevitable, even with the safeguards built in to the business case, say experts who reviewed the proposed business plan for Cayman at the request of the Caymanian Compass. Jim Walker, a Miami-based maritime lawyer and founder of the website Cruise Law News, said there are numerous cautionary tales of U.S. states and Caribbean countries that had expected an economic stimulus and found a white elephant.
"There seems to be a lot of assumptions in the business case. They are saying the worst scenario is to do nothing. Those ports all found that doing something was worse than doing nothing," he said.
Ross Klein, the author of four books on the cruise industry and founder of Cruise Junkie website, said there is "no reliable basis" for the business case's key assumption that the Cayman Islands will see a 1 percent loss in tourist numbers every year if it does not build new berthing facilities and a similar increase in passengers if it does build.
"The report did not factor in regional factors that will likely impact cruise numbers more than whether it is a fixed pier or tenders," he said.
"Cuba is a major issue and should be a major concern. Will they go to George Town when they can go to Cayo Largo? That is the elephant in the room that is not being considered," he added.
Mr. Klein also cautioned that the statistics used to make a case for new facilities, including figures on how much cruise passengers spend on shore, often came from the cruise lines themselves.
"Sadly, most ports depend on the cruise industry itself for intelligence about the economics of cruise tourism. They don't recognize that the cruise corporation has self interest in what they choose to share and what they don't choose to share," he said.
Simon Conway, the PWC consultant who presented the business case for the Cayman piers at a public meeting in November, appeared to acknowledge this, accepting that cruise lines had not shared statistics on how many passengers actually get off the boat in George Town.
Mr. Walker said what was being proposed in Cayman had some merit in comparison to port deals in the U.S., where city planners had built terminals "on a wish and a prayer."
In those cases, ports were built without any contractual commitment or financial involvement from the industry.
Houston's Bayport Cruise Terminal, built in 2009 at a cost of US$108 million, had to wait until earlier this month for the first ship to sail from the terminal. Officials in Alabama were left "shocked" and "bewildered", according to news reports in the U.S., when Carnival Cruise Lines pulled out of the city in 2011, leaving it with no direct revenue to pay the millions of dollars in debt remaining on the terminal.
Jimmy Lyons, chief executive officer of the Alabama State Port Authority, told the Compass that what was being proposed in Cayman was a better formula, with the level of up-front investment from the cruise industry being an incentive to keep coming to the island.
Mr. Klein is not so sure. He cautions that cruise industry heavyweights, whose annual turnover typically dwarfs the GDP of the small island nations they deal with, tend to get the better of any contract.
"Negotiations are not entered as equals – the cruise corporation is dominant and the port is reverent and normally forced to make concessions in response to threats that 'we'll go somewhere else if you don't do what we want.'"
He said the devil would be in the details of the contract, and Cayman would be wise to protect itself by insisting on such measures as potentially including a net minimum annual income or a bond to cover gaps between targets and reality. He said Cayman should not be afraid to walk away from the table if the deal became too one-sided.
At public meetings held last month, several business owners raised concerns that they were already missing out as the cruise lines directed tourists to the lines' commission-paying partners.
Mr. Walker said this was a big issue in Jamaica, where relatively few local traders had profited from the building of the Falmouth port.
"They have built a wall around the Falmouth port. They have a few approved vendors inside and on the other side of the wall the people are in a state of crisis."
Mr. Klein said ports do not necessarily need their own shore-side retail development to control shopping patterns in port destinations.
And he cautioned that the business model proposed in Cayman lacked a clear revenue stream that would do anything more than cover the cost over a lengthy period, meaning the cruise line would seek other sources of income beyond port fees, "likely at the expense of local businesses."
He said shopping incentive schemes, where stores paid commission to have tourists in their stores, charging for vendors or taxi operators to be on the dock and increasing commissions on tours booked aboard the ship, were common methods.
Tourism Minister Kirkconnell said the business case had been carefully prepared to prevent a one-sided deal. He said the Port Authority would retain control of the dock, including the licensing of vendors, taxi drivers and tour operators. And he believes the lack of shore-side retail will prevent a Falmouth-type situation from developing.
He said around 70 percent of cruise tourists arriving in Cayman currently book tours directly with operators in Cayman, avoiding the issue of hefty commissions. He said the relatively low crime rate and sophistication of Cayman as a destination mean that people were happy to do that, rather than book on board the ship.
He added that Cuba opening up may hurt destinations in the eastern Caribbean but would probably benefit Cayman by giving the cruise lines more diverse itinerary options.
"Our geographic location, close to Cuba and close to Falmouth, makes us an ideal destination for stopovers on either route," he said.
Roger Frizzell, of Carnival Corp., said: "We have a strong track record of creating real economic value to cities throughout the world. Two weeks ago, for instance, the state of Florida issued an official report on the cruise industry that reiterated the value of the cruise industry to the state's economy. The same is true of our efforts around the globe."
Major container port envisioned for St. Croix
BY ALDETH LEWIN (DAILY NEWS STAFF)
Published: November 26, 2013
Daily News File Photo The Economic Development Authority, the V.I. Port Authority and the St. Croix Renaissance Group are working together to develop a new port on St. Croix.
The Economic Development Authority, the V.I. Port Authority and the St. Croix Renaissance Group have formed a public-private partnership to bring a new industry to, and hopefully a boost to the economy of St. Croix.
The three entities signed a memorandum of understanding to work together to develop the south shore into a large-scale, international transshipment port.
"I call it project St. Croix," Economic Development Authority President and Chief Executive Officer Percival Clouden said.
Clouden said with the expansion of the Panama Canal - which will double its capacity by 2015 and allow larger ships through - more cargo shipping traffic will be moving through the Caribbean.
"St. Croix becomes a strategic location for a container port, transshipment port and bulk storage facility," Clouden said.
He went to look at the Panama Canal along with representatives from the Port Authority and the St. Croix Renaissance Group. They met with an executive of one of the largest container ports in Panama, who also visited St. Croix.
"They have expressed interest in assisting and guiding us through the development," according to Clouden.
On the south shore of St. Croix is the 1,244-acre industrial park owned by the St. Croix Renaissance Group. Part of that property includes a 45-acre parcel with a deep-water container port facility.
Adjacent to the privately owned port is the government's cargo facility, the Wilfred "Bomba" Allick Port. The authority's Gordon Finch Molasses Pier is also in the area.
"There are two adjacent ports that, when combined, can provide a significant asset for transshipment and containerization," Clouden said. The government also is keeping a close watch on a piece of the HOVENSA port, which is located in the same area.
The recently approved Fourth Amendment Agreement between HOVENSA and the V.I. government contains a clause about the use of the shipping lane in front of the property.
If HOVENSA has not been sold after a year, HOVENSA will give the government access to the Limetree Bay Channel - but not to its dock facilities - while it operates a storage terminal business.
Clouden said use of that channel could add to the development of a transhipping port in the area.
"We have our eyes open on that depending on how the sale turns out," he said.
Clouden said the project could be a boon to the economy of St. Croix, which has suffered greatly since HOVENSA shuttered its doors.
The development could create 500 jobs and create ancillary businesses to serve the shipping industry, according to Clouden.
"It's just going to have a positive effect on the St. Croix economy," he said.
Now that the MOU is signed, the three entities must begin to meet and work out a plan for developing the area.
"It's not something that we're going to let fall through the cracks, because we're all on the same page," Clouden said. "This is needed, this is going to have a positive impact on St. Croix."
He said the loss of HOVENSA was a wake-up call, and the territory must diversify its economy and not rely on one industry alone.
"The Caribbean basin is a place where it's rich in opportunity," Clouden said. "With all the islands having the need to import, there's always the necessity for commerce via those means - water transportation."
He said the large cargo ships could come into St. Croix's port and break down their shipment, sending some containers off on a smaller boat, swapping out cargo. The ships would also need to refuel and provision.
"St. Croix has assets that are not being utilized," Clouden said. "We just need to get little teams together to work on special projects and bring them to fruition."
Gov. John deJongh Jr. said he supports the development plan.
"We are fortunate to have a range of port facilities that, to date, have been underutilized, but with changing market conditions and our focus on economic diversification, we are well positioned to take advantage of regional opportunities," deJongh said in a written statement.
For more information, contact the Economic Development Authority at 714-1700.
- Contact reporter Aldeth Lewin at 714-9111 or email alewin@dailynews.vi.
Cuba libre: Could port herald new economic age for communist island?
November 20, 2013 -- Updated 1205 GMT (2005 HKT)
STORY HIGHLIGHTS
A new port and free-trade-zone are being built in the Cuban town of Mariel

The development will cost $900 million and aims to attract international investment to Cuba

Reforms in Cuba are opening up the economy and the state is rolling back its influence over many sectors
The Gateway goes behind the scenes of the world's major transport hubs, revealing the logistics that keep goods and people moving.
(CNN) -- In the sleepy seaside town of Mariel, northwest Cuba, a hulking monument to the communist islands' evolving economy is rapidly taking shape.
It is here, under the intense glare of the Caribbean sun, that a giant free-trade zone (FTZ) and container port are in the latter stages of construction.
The deep-water facility will have an annual capacity of up to one million containers when finished (three times that of Havana's existing port roughly 30 miles away) and 700 meters of berth that it is hoped will host some of the world's largest cargo ships.
Partially financed by loans from Brazil and built by Brazilian construction firm, Odebrecht, the port will be operated by Singapore's PSA. The FTZ, meanwhile, aims to attract international companies to Cuba by offering them a low-tax, low-regulation environment in which to manufacture goods.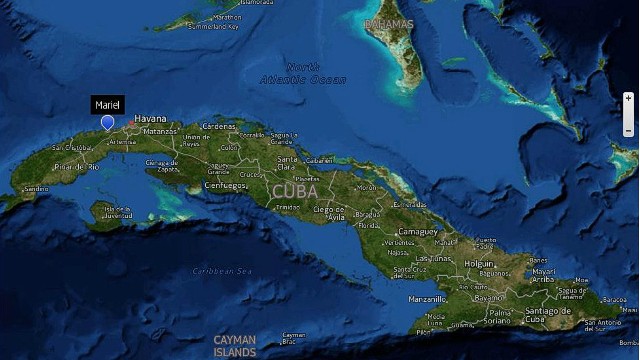 "What the zone is intended for is to create a special climate where foreign capital is going to have better conditions than in the rest of the country," said Cuba's foreign trade and investment minister, Rodrigo Malmierca, during a September visit to Beijing.
See also: Dawn of the super-ports
The $900 million project mirrors similar developments and FTZs that have sprung up in fast-growing communist nations such as China and Vietnam in recent decades -- although experts doubt whether Cuba will follow the same path as the "Asian Tigers."
While the ruling Communist Party maintains that state control will take precedence, the ambitious development is the latest in a series of controlled reforms that have been made since Raul Castro came to power in 2008. The government has already relaxed its control over many sectors, encouraging ordinary Cubans to fill the void with their own private enterprises.
"Cuba is shedding its old skin and it's becoming something else which is like a hybrid of models," explained senior Latin America fellow at the Council on Foreign Relations and author of the book "Cuba: What Everyone Needs to Know," Julia Sweig.
"This will (likely consist) of a much larger private sector, a much smaller social sector with the basics of social protection left in place, a lot more personal autonomy and economic freedom for Cuban people without necessarily moving beyond the single party system," she added.
Regional developments
This new economic direction -- which the administration refers to as an "update" of the socialist economic system -- and in particular the Mariel development have been brought about by a number of specific challenges and opportunities for Cuba, Sweig explained.
The widening of the Panama Canal (which is due to be completed in 2015) means more of the world's largest ships will soon be passing through the Caribbean, providing Cuba with the chance to benefit as a transhipment hub thanks to its strategically favorable location.
Cuba is shedding its old skin and it's becoming something else which is like a hybrid of models
Julia Sweig, Council on Foreign Relations
Fast-growing economies in the region, such as Brazil, Mexico and Chile, meanwhile, provide fresh possibilities for foreign investment and trade tie-ups. Nurturing new relationships has been made all the more important given the volatile political climate in Venezuela, whose leftist government currently sells subsidized oil and trades with Cuba on conditions that are highly favorable to the island country.
A vitally important cog in this wide-ranging strategy is Mariel. According to Carmelo Mesa, professor of economics and Latin American Studies at the University of Pittsburgh and author of the book "Cuba under Raul Castro: Assessing the Reforms," the port and FTZ are by far the most important development project on the island.
See also: What happens to goods lost at sea?
"The objective for Mariel and the free zone is to expand infrastructure, increase exports, reduce imports and develop high-tech projects that will create jobs," Mesa said. "This is important as the Cuban government has indicated that anywhere from 1.3 million to 1.8 million workers in the state sector are unneeded and must be dismissed.
"Cuban exports are generally raw materials, except for pharmaceutical products and biotechnology products but this is only about 8% (of exports). So they want to have value added goods such as computers, appliances and expand biotechnology," he added.
Breaking with the past
Whether the wider economic plan and investment in Mariel will achieve these aims, however, remains far from certain.
The 51-year-old U.S. trade embargo still restricts Cuba's ability to trade freely with its international partners. Any ship that docks in Cuba cannot enter the United States for six months. If the embargo was ever lifted, however, the FTZ would be favorably located (only 120 miles from Florida) to serve as a low-cost site for companies looking to manufacture and ship their products into the U.S. market.
As it stands, international investors will have to be persuaded to choose Cuba over nearby competitors. The likes of Panama, Jamaica and the Dominican Republic already have established FTZs in their territories.
Mesa also points to economic development zones introduced under Fidel Castro in the 1990s and early 2000s which expanded very quickly before "there was a re-centralization of the economy" leading many foreign firms to pull out of Cuba.
According to Diego Moya-Ocampos, a Cuba specialist at IHS Global Insight, many investors still see Cuba as a "hostile business environment" and will treat any opening of the economy with a high degree of skepticism.
"This opening is going to be taken with a pinch of salt ... it's still to be assessed what the tax and regulatory benefits of the (FTZ) will be," he said.
The end of communism?
This opening is going to be taken with a pinch of salt
Diego Moya-Ocampos
Despite these significant challenges, Cuba still has much to offer international companies, not least a well-educated labor force -- Cuba has one of the highest literacy rates of any country, according to data compiled by the CIA World Factbook.
Mesa however identifies laws that restrict foreign companies hiring Cubans directly as a potential disincentive to FTZ investors. Instead, workers are employed via a government agency that makes all decisions on the wages they receive often driving up the price of labor -- although new laws on foreign investment are expected.
See also: Where are the world's piracy hotspots?
Sweig meanwhile points to the lifting of travel restrictions between the U.S. and Cuba in recent years and a gradual shift in rhetoric in Washington policy circles that indicates a softening on the issue of the embargo.
All concur however that, despite the tentative adoption of market principles and the loosening of central economic control, this is far from the beginning of the end of communism in Cuba.
"(The Cubans) know they need to create these types of clusters where they can operate more aggressive free trade economic policies without necessarily affecting the economic dynamics of ordinary Cubans," Moya-Ocampo said.
"It's pragmatism," he added. "Cuba is trying to update its structures to meet the new realities of Latin America."
HAITI: Aid or Trade? The Nefarious Effects of U.S. Policies
U.S. aid and trade policies related to hunger and Haitian agriculture over the past three decades are incoherent and contradictory, at best, and have been correctly characterized as "disastrous" and "greed[y]."
While some U.S. government agencies say their programs have been meant to alleviate hunger and promote agricultural production, other programs have helped pry open Haiti's market, creating millions of new consumers for U.S. agricultural products like rice, poultry, pork and other products while undermining local agricultural production and changing Haitian eating habits.
Because some 50% to 60% of the population still makes their living in the agricultural sector, these policies have had extremely negative effects on the economy at large. For example, a 2006 study from Christian Aid estimated that 831,900 people had been directly affected by the 1995 lowering of tariffs that once protected Haitian sugar, rice, and chicken.
Haiti now imports at least 50% of its food, mostly from the U.S., and has become the second most important importer of U.S. rice on the planet.
Food "aid" aids U.S. farmers
For decades, most of Haiti's food aid has come from U.S. government programs, some going directly to the Haitian government, some to various contractors like World Vision, CARE, ACDI-VOCA, and Catholic Relief Services, and some to other agencies, especially the World Food Program (WFP).
The U.S. is the world's largest food aid donor, accounting for 56% of worldwide food aid in 2010 when it shipped 3.2 million metric tons (MT). The non-emergency food aid program, called "Food for Peace" (established under Public Law or PL 480), cost U.S. taxpayers US$1.5 billion in fiscal year 2012.
The U.S. program, launched in 1954, is legally obligated to be based almost entirely on U.S.-produced food, at least half of which must be shipped on U.S.-flagged boats. (In 2008, the George W. Bush administration authorized a small pilot "local and regional procurement pilot program, but most U.S. food aid still comes from U.S. farmers.)
In his 2010 book Travesty in Haiti, anthropologist Timothy T. Schwartz deplores the damage done by U.S. food: "Food assistance to Haiti during the 1980s tripled reaching a yearly average of over US$50 million in gratuitous U.S. surplus beans, corn, rice and cracked wheat. Put in simpler terms, that was enough food to meet the calorific needs of over 15% of the Haitian population."
In 2010 and 2011, 10% of food consumed in Haiti was food aid food. Now that number is down to about 5%, according to Pierre Gary Mathieu, head of the government's food security office, the Coordination Nationale de Sécurité Alimentaire (CNSA). Five percent is still considerable.
"When you have a country that depends in part on food aid to function, you are in a really serious situation," Mathieu told Haiti Grassroots Watch (HGW). "In other words, that food aid becomes a strategic and a political element… [and] the food aid you have is imported food aid, which comes from overseas. But, paradoxically, while food aid is being distributed in some regions, in other regions you are experiencing overproduction."
The U.S. is the only country in the world that obligates most of its food aid to be U.S. produced food. In addition to being questionable for the reasons raised by Mathieu, the requirement also increases the cost of getting food to the needy by at least 23% and sometimes by over 50%. Because of this draconian constraint – meant to supply U.S. farmers with customers – U.S. food aid, including "emergency" aid, takes on average five months to reach its destination. According to a recent USAID report, U.S. food aid to Haiti cost US$1,096 per metric ton delivered, up 100% from 2005 when it cost US$583.
"Only 40 cents of each taxpayer dollar spent on international food aid actually buys the commodities hungry people eat," according Cornell professor Christopher Barrett, author of Food Aid After Fifty Years: Recasting Its Role.
Another aspect of current U.S. law is the "monetization" of food aid, whereby the U.S. government buys food from U.S. farmers and ships it to international aid organizations or foreign governments. These then sell the food in order obtain cash for programs.
Numerous studies, including those from the U.S. Government Accountability Office (GAO), have criticized the program for its waste and for being harmful to the farmers of poor countries. A 2011 GAO study reported that, over a recent three-year period, monetization squandered US$219 million that could have been used to feed the hungry. Worse, and directly linked to Haiti, the report said: "USAID and USDA [U.S. Department of Agriculture] cannot ensure that monetization does not cause adverse market impacts" which may include "discouraging food production by local farmers."
For years, development organizations like Oxfam and even CARE have criticized this practice.
Until recently, millions of dollars worth of U.S. rice, beans, wheat and wheat flour, vegetable oil, and other products were monetized in Haiti every year. For example, between 2008 and 2010, about 100,000 MT of food – mostly wheat and flour – were monetized in Haiti. The cash went to USAID contractors, while the government charged a handling fee of between 2% and 5%, according to the GAO.
Anthropologist Schwartz said that in the 1980s, Haiti "was so thoroughly inundated with surplus food from the U.S. and Western Europe that Port-au-Prince merchants were soon re-exporting cracked wheat to Miami."
Today, monetization is winding down, but as recently as September 2012, the Japanese government gave the Haitian government 8,660 MT of U.S. rice, which was then sold to Haitian wholesalers.
According to the 2010 Sak Vid Pa Kanpe report on the impact of U.S. food aid on human rights in Haiti (from Partners in Health/Zanmi Lasante, the Robert F. Kennedy Center for Justice and Human Rights, and an NYU Law School group), "over the past 20 years, 1.5 million tons of food grown in the United States" had entered Haiti as development or emergency food aid.
The Farm Bill and "Corporate Welfare"
Food aid is part of the U.S. Farm Bill, a law renewed every five years by the U.S. Congress. In legislation proposed for 2012, the Barack Obama administration tried to institute reforms that would eliminate the link between U.S. food aid and U.S. produced-food and reduce the use of monetization. These changes, and others, would allow for the delivery of more aid, more quickly, at less cost to taxpayers, according to USAID.
But what some call "the hunger industry" is big business, as numerous studies and articles have proved [see links to resources below], and its beneficiaries have fought against the proposed legislation.
Agribusinesses like Archer Daniels Midland, shipping companies, and some of the big food aid agencies – including ACDI-VOCA, World Vision, and Technoserve, all active in Haiti – have lobbied hard against the administration's suggestions. Last summer, a bill passed the Senate, but it is now held up in the House.
"We are going to probably see a one-year extension," Oxfam America's Senior Policy Advisory for Agriculture and Food Policy Eric Muñoz told HGW in a telephone interview on September 6.
The Farm Bill is also the law that supplies massive subsidies and other financial support – amounting to between US$10 billion and US$30 billion per year – to U.S. farmers and agribusiness, some of which would be cut in the reformed Farm Bill, if it passes.
In his excellent article on the U.S.-Haitian rice and agricultural policy article, "Diri Nasyonal ou Diri Miami" article in the July 2013 issue of Food Security, Oxfam America's Senior Research Marc Cohen notes: "[b]etween 1995 and 2010, the U.S. government paid nearly US$13 billion in subsidies to 70,000 rice farmers." Riceland, whose rice sells under the "Tchako" label in Haiti, picked up US$500 million in during that period.
The administration's proposed new Farm Bill legislation changes subsidies and other payments to farmers and agribusiness, but it is unclear what effect – if any – these would have on U.S. rice production and prices.
Seen together, it is clear why some call the 2008 Farm Bill "corporate welfare."
One part of the bill subsidizes agribusiness and farmers, many of whom are millionaires, according to numerous studies. Another part of the bill guarantees that whenever the U.S. government and its contractors decide people are hungry somewhere, U.S. farmers, agribusiness, food processors, and shippers have guaranteed customers for their products.
Lawmakers see the connection clearly. Last summer, a Democratic senator pushing for the new Farm Bill – which still has many subsidies – called it "a jobs bill."
"These programs help us sell our products in markets like Nigeria and Vietnam and … the farm bill is key to sustaining our opportunities in these markets," Senator Maria Cantwell (D-WA) told Roll Call.
Neoliberal Dictates
When "corporate welfare" or a "jobs bill" are combined with the Washington-demanded policy changes that pried open Haiti's market by forcing open ports and dropping protective tariffs (first in the 1980s and then again in 1995), the result is devastating for Haitian farmers and a bonanza for U.S. rice farmers and other U.S. grain and food exporters.
In his article on rice, Oxfam's Cohen decries what he calls the U.S. "neo-mercantilist trade policy" that "aims to maintain free access to the Haitian market for U.S. food exports (particularly rice)."
Before 1995, most Haitian agricultural products – including rice – were protected by tariffs as high as 50%. But that year, a deal was forced on Jean-Bertrand Aristide's government by the U.S., the World Bank, the International Monetary Fund (IMF) as part of the "Paris Plan," whose terms had to be accepted before Washington would agree to help return the exiled president to Haiti. Tariffs plummeted to between 0% and 15%, the lowest in the Caribbean at the time. In 2009, some of those tariffs were adjusted upwards, but too little, too late, by most accounts.
In its 2006 report Agricultural Liberalisation in Haiti, Christian Aid called the tariff drops "disastrous," noting that Haiti went from being recently largely self-sufficient in food to using most of its export earnings to buy foreign food, mostly from the U.S.
"As food imports have increased, local agricultural production has fallen," Christian Aid writes. "It is now widely accepted that this trend is closely linked with the effects of trade liberalization."
Today, Haiti's population of about ten million is one of the best customers of U.S. farmers and agribusiness. In 2011, U.S. exports of agricultural products to Haiti totaled $326 million. The top categories included rice (US$166 million), poultry meat (US$64 million), and animal fats (US$14 million).
In 2010, former President Bill Clinton – whose administration coerced the tariff drop – told a Congressional committee that the policy change was wrong, noting it "may have been good for some of my farmers in Arkansas, but it has not worked [for Haiti]. It was a mistake."
Chicken and rice: new customers with new tastes
The "mistake" – which so far has not been corrected – did create a massive market for U.S. products at the same time as it brought about radical shifts in the Haitian diet.
Before 1995, chicken was considered "a luxury product," according to Christian Aid. It was "consumed by the population on Sundays or on special occasions, such as baptisms or when a guest came to stay." Most chicken sold on the streets or in stores came from Haitian farmers or a few small industrial suppliers.
By 2000, 60% of chicken consumed in Haiti came from overseas, mostly from the U.S., in the form of chicken parts, especially dark meat, considered largely unsellable in the fussy, white meat-loving U.S. market.
Rice consumption habits have also radically changed. According to a 2012 report released by Oxfam, "after 'trade liberalization' beginning in 1986 and the drastic reduction of Haiti's border protection," rice went from being "an occasional component of average diets (one or two meals a week) to the mainstay (seven to 14 meals a week)."
A 2010 U.S. government study notes much the same, saying that in the early 1980s, most Haitians "lived in rural areas and ate a diversified diet of roots and tubers, maize meal, and sorghum. Rice was occasionally consumed in these rural areas, but as a luxury item. A farmer would have to sell three to four marmites of maize in order to buy one marmite of rice. In urban areas, rice consumption was slightly higher. »
Rice consumption went from about 50,000 MT in 1980 to over 400,000 MT in 2012.
Today, "Haitians are among the largest consumers of rice in the Caribbean," according to the U.S. government. And per capita rice consumption continues to rise. Pegged at 42 kilograms per person in 2010, by 2013 that figure was 50 kilograms.
Sorghum and corn, which previously played an important part of all Haitians' diets – rural and urban – are today considered "inferior" food, according the various studies.
As rice imports have skyrocketed, Haitian rice production has remained relatively flat for the past 30 years. Heavily subsidized U.S. rice is consistently priced below Haitian rice.
Aid or Trade?
Cohen calls the Haitian-U.S. rice issue "a tale of power politics, greed, narrow self-interest, changing diets, and a global trading system that provides special and differential treatment not for the poor… but for the rich."
The U.S. Congress will eventually vote a new Farm Bill, which may or may not have changes to both food aid and farmer subsidies. But massive damage from U.S. farmer subsidies, food aid and lowered tariffs has already has been done.
As a poor country, Haiti has the right to raise tariffs up to 50%, according to World Trade Organization rules. The government could also undertake programs to attack some of the structural causes of hunger.
But it is unlikely that the current government will touch most tariffs. The proposed 2013-2014 budget does announce some changes. Tariffs on foreign corn, pasta, green peas (but not beans), many vegetables, peanuts, fish and shellfish would go up, perhaps in an effort to lessen the flow of products from the Dominican Republic [See HGW 24 Export or Exploit?] But the budget does not mention the tariffs for rice, corn meal, or corn, which are all imported predominantly from the U.S.
On Oct. 1, the Haitian government announced it would not implement the new budget, and would instead renew the previous one. For the third year in a row, the government was unable to gain parliamentary approval for its proposal.
Economist Camille Chalmers calls the proposed budget "anti-national production."
"One cannot partially revise the neoliberal policies that have been devastating for the Haitian economy," Chalmers said on a local radio station. "It has got to be global."
Rice tariff policy is very political. The heavily subsidized, virtually tariff-free rice flowing into Haiti has served successive Haitian governments, who have a keen interest in assuring urban populations have access to cheap food. After food prices went up in late 2012, the government brought in 18,000 tons of rice from Vietnam – called "10/10" – which it sold on the market at prices that undercut even "Miami rice."
"We promise the population that we will bring in a lot, enough to serve the entire distribution chain," a government official told the press. Outraged farmers called for a boycott, but the rice arrived and was happily purchased.
Mathieu, head of the government's food security office (CNSA), explained clearly why tariffs would likely not go up any time soon. Speaking to The Economist in June, he said: "A government has to make a choice: you have to feed people, or else there are political costs."
Real Change or Just Tinkering?
Donors, government officials and technicians, foreign development and humanitarian organizations, farmers' cooperatives and associations, and foreign and local agronomists all agree on one thing: Haitian agriculture and food production are in critical condition, and this is a major reason for Haiti's hunger.
As noted in Why is Haiti Hungry?, Haiti's land tenure system is one of the biggest impediments to food sovereignty. Most farmers working the land do not own it or have dubious deeds.
Also, for the past four decades food aid has flooded the country while Haiti's agricultural sector has been ignored. Neoliberal policy shocks have had disastrous effects. In 1995, foreign assistance for agriculture and for food aid were about the same. Not for long. As farmers struggled against subsidized foreign products, food aid rose while assistance to agriculture dropped.
The trend has recently changed. Since the 2010 earthquake, there has been a steady drop in food aid and a marked rise in foreign assistance for the agricultural sector.
Many of the grants and programs cover aspects of the government's National Agriculture Investment Plan. With a budget of about US$790 million, the plan has been changed since it was originally proposed. It had to be "revised" prior to gaining the approval of important donors like the U.S. government.
"Early iterations that included a state-driven approach were revised, shifting the focus towards a market-oriented strategy," according to a USAID document. "The final product was endorsed at an international donor conference for Haiti on June 2, 2010 in Punta Cana, Dominican Republic."
In its press releases and media appearances, representatives of the Michel Martelly government have implied the "Plan pour la Rélance Agricole" was invented after the election but, like many other programs, it was already in process when the singer took power.
Similarly, the government's "Aba Grangou" (Down with Hunger) program is in fact a "brand" given to cover 21 programs – most if the agriculture programs – that are often carried out by foreign agencies or organizations. Associated with Aba Grangou, or on their own, across the country, large and small donors, sometimes in conjunction with the Agriculture Ministry, are running interesting and even promising projects and programs that aim to alleviate hunger and also address the agricultural production crisis.
For example, the Inter-American Development Bank has funded a US$27 million pilot land tenure security program aimed at clarifying land ownership. Other projects focus on fisheries, developing seed banks, and improving roads and irrigation canals. The government and donors are also trying to promote and use local products as much as possible. A World Food Program pilot program is using locally produced milk and other foods, while USAID is funding a program to help sorghum growers improve their output so that the Brasserie Nationale d'Haiti S.A. (BRANA), a Haitian brewery now owned by Heineken, can replace some of the grain it imports with Haitian production.
USAID is planning very little food aid after 2014 and is instead focusing on agricultural development through a program called "Feed the Future" (FtF) targeting the regions around Port-au-Prince, St. Marc, and the Northdépartement (province).
FtF's objectives include increasing output of crops for export (notably mango and cacao), output of grains and other food for local consumption, and planting of crops and trees in order to protect watersheds.
But Cohen is not entirely optimistic: "Although it is clear that agriculture has an important place in the U.S. strategy to support post-earthquake reconstruction in Haiti, there are some limitations to U.S. agricultural assistance… and a sharp incoherence between this aid on the one hand and U.S. agricultural trade policy on the other."
Haiti Grassroots Watch is a partnership of AlterPresse, the Society of the Animation of Social Communication (SAKS), the Network of Women Community Radio Broadcasters (REFRAKA), community radio stations from the Association of Haitian Community Media and students from the Journalism Laboratory at the State University of Haiti. This series distributed in collaboration with Haïti Liberté.
Dr. Alonso Munera, Association of Caribbean States
calls for Caribbean Maritime exchange-like organization!
October 23rd, 2013 -- THE CARIBBEAN REGION IS THE MOST IMPORTANT FOR WORLDTRADE. THE INCREASE IN CARGO VOLUMES THAT IS EXPECTED AFTER THE EXPANSION OF THE PANAMA CANAL, REPRESENTS A REAL POSSIBILITY FOR CAPTURING A GREATER PART OF THE MARKET
There is not a single place in the Caribbean where the main topic at the moment is not the expansion of the Panama Canal. That is to say, the remarkable work of engineering that is the construction of the third set of locks. In Trinidad and Tobago, several symposiums and conferences have been held on its significance and impact on the future wellbeing of the region.
But, why is it so important for the people of the Greater Caribbean? For the same reasons, it could be said, to some extent, as a century ago when it was built: it was a formidable tool for expanding world trade and it transformed the Caribbean into a strategic place in the globaleconomy. It must be added, that this time around, the Caribbean Region is more aware of what is to come, is better prepared and has a greater capacity of autonomy to carve out its own future.
However, it would be interesting to know whether the average Caribbean person knows the role that the Panama Canal has played in our history? A brief reflection is necessary at this juncture in order to create a better understanding of the degree of transformation that can result from the opening of the new locks.
Firstly, it must be understood that during the first four centuries of our history, everything reached us after navigating the waters of the Caribbean. It was our natural highway: food, work tools, human beings, books and ideas, they all made that journey across those seas. In reality, this changed over the last century, when new global arrangements and the development of aviation brought about a radical change in the old routes that had dominated communication and trade among the peoples of the world.
In the early centuries, Panama was already established as the great intersection point: since the famous Fair of the Galleons (Feria de los Galeones) during the 16th and 17th centuries, this small portion of elongated land that served as the hinge for uniting the peoples that inhabited the two seas, had been a pivotal factor in our progress. The dream of possibly connecting the Atlantic with the Pacific began during the early years of the colonisation.
Today, with the expansion of the Panama Canal, we are about to witness a new and profound trade revolution in the Caribbean. Based on all analyses, the changes will be extreme and will have an extraordinary impact on Caribbean societies. The new locks will yield several results: trade in the region will grow with tremendous dynamism, driven above all, by the new cargo capacity of up to 18,000 containers of the Post-Panamax mega ships, which have more than double the capacity of those currently on the route.
Pacific-Atlantic trade will reach unprecedented proportions: it will increase by more than 50 percent within the next ten years, in addition to which, all its ports will benefit from a higher concentration of goods, the reduction of costs and faster circulation. The better prepared ports will assume the leadership and they will also infuse greater dynamism into the lighter traffic of the feeders, which cover the minor intraregional routes.
In container trade, the Caribbean has three ports among the 100 that move a sizeable volume of cargo in the
World. It is small when compared with the Asian, European and North American ports, but it is a significant figure with respect to the rest of Central and South America. Cartagena is the best ranked, in position 68, and on six occasions over the last eight years, it has been named the best Caribbean port by the Caribbean Shipping Association.
THE GREAT LEAP FORWARD
I am of the impression that many people are beginning to understand what will be at play in the Caribbean in the coming years, and the strategic role of our ports in the challenges of the contemporary world. I believe that one of our strengths will be development, in terms of adjusting services and logistical platforms, and also our capacity to support and absorb the enormous increase that is anticipated in the mobilisation of containers as a result of the rise in both foreign trade and trade flows in the hemisphere. This capacity to receive the Post-Panamax vessels will afford the peoples of the Caribbean magnificent developments in terms of higher volume of trade and greater economic prosperity.
The Association of Caribbean States has among its primary objectives, co-operation among the countries of the region so as to strengthen and increase transport and trade. It is necessary to move forward toward building a maritime strategy for the Caribbean as a whole, which would enjoy maximum benefits from the expansion of the Panama Canal.
In the coming days, and with the support of the French Development Agency, we will assemble experts to work on formulating said strategy. The governments of the Greater Caribbean must work together to strengthen their ports for the great leap forward, that is to say, the opening of the Canal's third lock, whose execution is just around the corner.
Dr. Alfonso Múnera is the Secretary General of the Association of Caribbean States. Any correspondence or feedback may be sent to feedback@acs-aec.org
CMI boss bats for trans-shipment port, logistics hub
BY NADINE WILSON Observer staff reporter wilsonn@jamaicaobserver.com
Monday, September 02, 2013
EXECUTIVE Director of the Caribbean Maritime Institute (CMI) Dr Fritz Pinnock has plans to establish a trans-shipment port and logistics hub in Jamaica as the best business opportunities the country has ever seen.
He, however, urged the Government to devise a sustainable plan that would ensure that Jamaicans are trained to take on the specialised jobs the new business ventures will afford.
"It is one of our best and last greatest opportunity for this country," argued Dr Pinnock, who pointed out that existing facilities such as the Kingston Container Terminal is not conducive to supporting a globally competitive value-added logistics hub.
"Rather than this fear factor, we have to wake up and realise that we are in a new world, the world is not the same anymore," he told the Jamaica Observer yesterday.
Recent revelation that Government is considering plans to have the Chinese Government build a port at Goat Islands, located off the coast of the Old Harbour Bay, has been met with much resistance from environment lobby groups, which argued that it would pose some amount of risks to the wildlife and individuals who make a living off the sea.
Dr Pinnock said he has noted concerns about the environmental impact creating such a hub at Goat Islands, could create, and has called for a more holistic approach to planning, instead of the shelving of such a business venture.
"Whatever we do, the environment have to be protected, but we cannot operate in a stupid way where we shut down everything and we do nothing," he said.
Dr Pinnock is a part of a joint mission that leaves the island today for Panama, to seek out internship and externship opportunities for Jamaicans who want to garner more experience in logistics from the expansion of the Panama Canal, which is to completed in 2014. The logistics expert will be accompanied by representatives from local universities and will be meeting with officials from Panamanian institutions and companies to garner more insight on how to operate at a satisfactory level on the international stage.
"The logistics hub and the future employees that people are looking for are not just people with degrees and certificate, but people with competence and attitude and the whole attitude is something that we don't cater for in our education system, apart from a few institutions like the Caribbean Maritime Institute, where 30 per cent of your grades actually come from your conduct," he said.
The CMI offers degree programmes and courses in engineering, logistics and shipping, security administration and customs processes and immigrations.
Dredging could be key factor driving long-term container port call strategies on Suez, Panama all-water services: ports expert
In advance of debate at the upcoming TOC Americas 2013 conference in Miami, Dr. Asaf Ashar, Research Professor with the US National Ports & Waterways Initiative (NPWI), and also an independent maritime and port consultant, said that dredging may turn out to be the key factor driving long-term US container port call strategies on both Suez and Panama all-water services.
Ashar will be chairing a round-table discussion on Panama vs. Suez and prospects for direct call vs. transhipment as part of the Big Industry Debate at TOC Container Supply Chain Americas 2013, on the afternoon of Tuesday October 1.
Taking place each year in the world's four key shipping hubs – Europe, Middle East, Americas and Asia – each TOC is now a complete container supply chain event for its region, bringing together cargo owners, logistics providers, carriers, ports, terminals and other key members of the container supply chain to learn, debate, network and foster new business solutions, said a TOC release.
How will Panama Canal expansion impact shipping and port networks across the Americas? Ashar said that this has been a topic of intense debate over some years now and while there appears to be fairly widespread agreement on some issues, the jury is still very much out on others.
"Where the maritime community seems to have reached a fair consensus is on the size of the ships that will be deployed on All-Water Asia/US East Coast (USEC) through Panama (AWP) services. Once the widened Canal opens, ship sizes are anticipated to increase quickly from the current average 4,500 TEU up to around 8,000 TEU - similar to the size of ships presently deployed on All-Water Suez (AWS) services. There is also general agreement that despite the considerable increase in ship size and the respective reduction in shipping costs, the AWP route is likely to see only a modest increase in market share relative to its main rivals, the AWS and the US West Coast (USWC) landbridge," he said.
"Where opinions start to diverge more sharply is on the impact of Canal expansion on carriers' North American service patterns and, especially, whether the present approach based mainly on direct port calls will be replaced, at least in part, by a hub and spoke system."
Considering that the deployment of 8,000 TEU ships on AWS, which began in 2011, has so far had no impact at all on the prevailing direct service pattern, any change is not likely to be swift, Ashar said.
"A recent review of AWS rotations on the USEC indicates that they are still based on direct calls even at relatively small ports like Boston – handling 190,000 TEU a year – and at ports with relatively shallow channels like Savannah, GA, currently with 42ft alongside. It is reasonable to expect that the deployment of similar ships on the AWP will have a similar impact on service pattern – meaning no impact, at least initially.
But, the locks of the expanded Panama Canal are designed for New-Panamax (NPX) ships, which are forecast to initially have capacity of 13,500 TEU and eventually 15,000 TEU. Following worldwide trends, it is quite likely that NPX will be deployed on AWP as well as on AWS services within 5 years or so following the expansion. Interestingly, this possibility was considered unlikely in channel-deepening studies undertaken by the US Army Corps of Engineers, the Federal agency in charge of US ports' channels. Accordingly, the design ship for these channels is just 8,000 TEU! The Corps also dismissed the possibility that in the longer term, ships bigger than NPX, such as the 18,000 TEU Maersk Triple-Es recently deployed on the Asia-Europe trade, could be used on AWS services; and that in the even longer future ship size may reach the 28,000 TEU Malacca-Max (MLX).
It is not unfeasible that that introduction of ships too large for USEC ports' newly-dredged channels will trigger a change in the service pattern of both AWP and AWS to hub and spoke. In this case, USEC ports would find themselves served by feeder services based on foreign hubs in the Caribbean region for AWP and Canada for AWS. This change in service pattern could be avoided by further deepening of USEC ports' channels. However, considering the arduous process of the recent deepening projects, the prospects for this happening look pretty dim.
If indeed the AW service pattern is transformed into hub and spoke, it is reasonable to assume that the AW feeders will call at smaller ports previously bypassed by direct AW services. The additional calls may have a limited impact on the traffic of ports with captive hinterland, such as NY; it may have a critical impact on ports like Miami, which have invested heavily in water, road and rail accesses hoping to be a first-in and last-out for AWP and capture a large share of southeastern US traffic. It will be interesting indeed to hear what the industry makes of these various issues when the various parties assemble in Miami this October," said Ashar.
Related Topics
* mandatory fields
Hire Logistics
The HR link in your supply chain.
Number of Jobs Online Now: 106Go To Show All
Video Transportation Matters
STOP SURVIVING; START THRIVING video STOP SURVIVING; START THRIVING
GLOBAL CHALLENGES, LOCAL SOLUTIONS video GLOBAL CHALLENGES, LOCAL SOLUTIONS
More Videos
Current Issue
Digital Edition
Canadian Transportation & Logistics magazine provides innovative solutions to transportation, logistics and purchasing professionals who manage product flow throughout the supply chain.
Go To:Digital Edition
Go To:Subscribe
In the Zone
Funding transport emerged as the major theme of the 2013 International Transport Summit, hosted annually by the Organization for Economic Cooperation and Development in Leipzig, Germany.
By Julia Kuzeljevich
It ain't pretty
The Council of Supply Chain Management Professionals recently released its 24th annual State of Logistics Report. Last year, business logistics costs were once again 8.5% of US Gross Domestic Product (GDP), the same level they hit in 2011, the...
By Dan Goodwill
Don't miss the 2013 Summit
We are coming through a slower than expected first half of the year with a great deal of uncertainty about what the next quarter will bring. Earlier this month, the Council of Supply Chain Management Professionals released its 24th annual State...
Go To More News From This Issue
MagazineDigital Edition
Buyers Guide
Home | About | Advertise / Media Kit | Contact | RSS Feeds RSS Feed
Business Information Group Network:
Business Information Group Network AutoServiceWorld.com Bodyshop Broadcaster Brownfields Marketplace Building Canadian Contractor Canadian Interiors Canadian Manufacturing Canadian Metalworking Cabling Networking Systems Canadian Architect Canadian Industrial Equipment News Canadian Underwriter Canadian Consulting Engineer Canadian Plastics Canadian Packaging Canadian Plant Canadian Mining Journal Canadian Oil Register Canadian Transportation & Logistics Claims Canada Design Engineering Download Express instouch Electronic Products & Technology EcoLog EcoLog Eris EP&T Food In Canada Frasers Gifts & Tablewares Hardware Merchandising HazMat Management HPAC/PCC i-hire.ca IncentiveWorks Jobber News Laboratory Product News L'automobile Machinery & Equipment MRO Mediacaster Meetings & Incentive Travel MM&D Mining Markets New Technology Magazine Nickles The Northern Miner On-Site OHS Canada OHS E-Learning Oral Health Journal Pulp & Paper Canada Purchasing B2B Scott's Directories Solid Waste & Recycling SSGM Truck News Go to top of page Top of page© 2013 Business Information GroupCopyright | Privacy Policy | Feedback
Florida Spending 60% Above 'Healthy'
As of Tuesday, July 16, 2013
By NEIL HARTNELL
Tribune Business Editor
nhartnell@tribunemedia.net
Bahamian spending on Florida shopping is at least 60 per cent higher than "healthy" for this economy, a retail entrepreneur yesterday warning that this was "killing jobs" and economic growth.
Elizabeth Covington, owner of the Tommy Hilfiger and his fashion stores, plus Fab Finds and My Favourite Things, estimated that Bahamian and expatriate residents were currently spending $2 billion per year - a sum equivalent to 25 per cent of annual gross domestic product (GDP) - in Florida.
Suggesting that this figure should be closer to 5-10 per cent of the Bahamas' annual GDP, Mrs Covington, in a series of e-mailed replies to Tribune Business's questions, said properly-executed tax reform would expand local business volumes and job growth.
Pointing out that the Bahamas' "outdated" reliance on Customs duties was placing Bahamian retailers, especially high-end ones at a competitive disadvantage, she added that this counterproductive for an economy relying on the services and retail sector for job growth.
Praising the Christie administration for starting discussions on tax reform, via its Value-Added Tax (VAT) proposal, Mrs Covington said this had the potential to 'level the playing field' if its introduction coincided with the elimination of Customs duties.
Such a move, she added, would allow Bahamas-based retailer to both tap into the 350,000-strong resident market and five million visitors who were currently put off by the relatively high prices.
However, Mrs Covington added her voice to those warning that the lack of concrete information provided to-date on the Government's VAT plans had "not inspired confidence or faith in the business community".
Suggesting that this had created the "opposite" effect, the retail entrepreneur added that many Bahamian businesses were in "a holding pattern", waiting to see how tax reform would impact their operations and investment decisions.
Focusing on what many Bahamian retailers refer to as the 'Florida problem', Mrs Covington said: "Think about this: Our country has a GDP of about $8 billion, and we spend about $2 billion of that in Florida every year.
"That's 25 per cent of our economy and a massive drain on our foreign reserves. In a healthy situation, that figure would be closer to 5 per cent or 10 per cent of our economy's GDP, not higher."
And she added: "Many Bahamian and expat consumers, despite not paying income tax if they work in the Bahamas, complain that prices for personal products are too high. Many of them, not willing or unable to see the bigger picture, then turn around and shop in Florida.
"The cycle then repeats and intensifies, and our economy and job growth stagnate over time as more and more individuals and families follow this pattern of consumption.
"We, as a country, have what retailers in the Bahamas like to refer to as the 'Florida problem', and it is killing jobs and stunting the growth potential of our domestic economy. If we revised the tax structure and made it more competitive, the volume of business in the country would expand rapidly, as would job growth."
Expressing concern over how young Bahamians would find jobs in such an environment, Mrs Covington said it was to the Christie administration's "credit" that it had started tax reform discussions now.
However, it was only when the economy was "in critical condition" that reform efforts were made.
Describing the current tax and duty structure as the greatest challenge for Bahamian retailers, Mrs Covington said this was being exacerbated by Florida's proximity and the growth of online shopping.
The problem was especially acute for mid and high-end clothing, footwear and accessories retailers, who typically had to pay 30-45 per cent import duty on their products.
In contrast, Bahamians or expatriate residents were either able to bring such products in duty-free, stuffed at the bottom of suitcases, worn or passed off as clothes they took with them, or use their annual Customs exemption.
"As years go by, fewer and fewer individual consumers pay duty on personal items," Mrs Covington told Tribune Business.
"This reality favours the Florida market for retail over our own Bahamian market, and it kills the job and growth potential of the domestic retail sector.
"In terms of the country's economic development, it is a backwards system because we don't really manufacture much, and we are highly dependant on jobs in the service and retail sector for domestic employment."
Emphasising that she was not criticising the Customs Department or its staff, Mrs Covington said the existing system was effectively impossible to police, given the difficulty in proving that clothing and footwear items had been purchased abroad.
Customs also had to deal with long airport lines, and Mrs Covington said: "This is the reality of our country's 'Florida problem'. Expecting Customs officers to police that and levy taxes on an individual basis is not realistic, so the duties on those items, for retailers in the Bahamas, need to be rationalised to avoid the Florida problem in the first place.
"It's always better to treat the disease than to try and treat the symptoms. In this case, the disease is high rates of duty, and the symptom is petty smuggling. If prices in the Bahamas are closer to prices in Florida, then Bahamians won't feel the need to shop abroad for their personal items.
"Such a change would transform our economy because it would empower Bahamians, expats and tourists that are in the country to shop locally with better prices."
Mrs Covington told Tribune Business that VAT "does have the potential to fix this entire broken system", provided that import tariffs were removed simultaneously with its implementation.
"If duty is eliminated completely in favour of VAT, then not only would 350,000 Bahamians spend more in retail businesses in the Bahamas, but we would tap into the more than five million tourists that visit our shores every year who don't really shop here currently because they view prices as being too high," she said.
" Do you know what a consumer economy based on the consumption of 5.35 million people would bring in terms of jobs and economic growth?"
She urged the Government to implement VAT in a "transparent and accountable manner", but warned that the Government had "not inspired confidence or faith in the business community to date with its pronouncements on VAT".
"It isn't clear at all what the Government is planning," Mrs Covington said.
"That lack of clarity means that all businesses are in a holding pattern, because they need to wait to see how the new taxes will be structured in order to make informed investment decisions.
"If VAT is added on top of duty, then taxation will strangle private enterprise in this country. The American recovery is underway. In order to translate that into job growth for the Bahamas, the taxation structure of the Bahamas needs to be settled as soon as possible so that Bahamian businesses have clear investment strategies moving forward and are ready for that recovery. VAT could be the solution, but knowing details is critical."
Kingston Container Terminal seeking concession for operation
Jamaica's main seaport, Kingston Container Terminal (KCT), is to be privatised by way of concession, but the structure of thetransaction is still being formulated, according to the divestment agent.
The enterprise team, chaired by former central bank governor Derick Latibeaudiere, "is currently undertaking due diligence to develop the details of the 'transaction structure' and will provide its recommendations to the Government as soon as the due diligence process is completed," said the Development Bank of Jamaica (DBJ).
The bank, which is the state's primary agent for privatisation programmes, said the transaction was at an early stage and, as such, the terms of the concession had not yet been worked out.
"It is expected that this will be finalised during the bidding and negotiation stages," the DBJ said, adding that it is working with a 15-month timeline.
KCT is the biggest money spinner for the Port Authority of Jamaica. It is projected to turn over just under J$11 billion among total revenue of J$16 billion expected to be earned across Port Authority's operations thisfiscal year.
Plans for the divestment of KCT were originally floated in 2009 by then Prime Minister Bruce Golding. Latibeaudiere's team was established seven months ago in January.
Asked what progress has been made to date, the DBJ said the Government has extended invitations to top global container terminal operators to prequalify for the opportunity to operate the KCT.
"A shortlist of pre-qualified bidders will then be invited to submit bid proposals to assume the operation and further development of the port via a long-term concession," DBJ said via email to Financial Gleanerqueries.
"To date, a significant number of the invited entities, including local interests, have confirmed their interest in participating in this transaction."
Jamaica has used the concession model before for both the toll highway now owned and operated by French construction company Bouygues, and for the Sangster International Airport in Montego Bay operated by the MBJ Airports consortium. The highway is under a 35-year agreement that was negotiated by DBJ; while the airport is a 30-year concession - both of which have been in operation now for a decade.
DBJ said the Government signed off on the plan to negotiate a concession agreement for KCT in March.
It said that as far as possible, the concession will give the preferred bidder the right to purchase the equipment of KCT as part of the package.
KCT is owned by the Port Authority of Jamaica and operated by subsidiary Kingston Container Terminal Services Limited.
Strategic guidance
It is one of the region's leading container trans-shipment ports with a capacity of 2.8 million TEU's or 20-foot equivalent container units.
KCT equipment includes 19 ship-to-shore Gantry cranes, with four super Post-Panamax cranes among them; 30 stevedoring chassis; 28 yard tractors; 30 yard trailers; two 4,000 horse-power tugboats, 73 straddle carriers, 24 trailer trains, four train tractors and nine forklifts, according to information on the port's website.
The DBJ said the enterprise team's primary role is to provide strategic guidance and oversight aimed at achieving a successful privatisation/concession.
"The enterprise team is also supported by a project team, comprising representatives from the DBJ, Port Authority, Attorney General's Chambers and PricewaterhouseCoopers, who are the financial advisers for the transaction, which meets on a weekly basis," the bank said.
Further development of the KCT is expected to facilitate the passage of Post-Panamax container vessels with a nominal capacity of 12,000 TEUs in comparison to the existing Panamax vessels with a capacity of 4,500 TEUs currently transiting the Panama Canal.
The Port Authority is projecting just under 1.1 million container throughput at KCT this fiscal year, up by 113,598. Of the budgeted J$1.95 billion of capital expenditure, the Port Authority expects to spend J$1.34 billion on the acquisition of container handling equipment for KCT, according to finance ministry disclosures.
The majority of KCT's business is cargo related, but the port also handles cruise-ship calls. It is estimated that cruise-passenger arrivals through the Kingston port will rise to 1.3 million at fiscal year end, up from 1.2 million a year earlier.
mcpherse.thompson @gleanerjm.com
Haiti decrees ordinance to protect rare mangroves -threatens Caracol port
PORT-AU-PRINCE, Haiti (AP) — Haiti has taken a rare step to protect the endangered mangrove forests along its coastline, the Caribbean nation's government announced Thursday.
The move could complicate U.S. efforts to build a port in a bay that contains a rare marine and mangrove-forest ecosystem east of the northern city of Cap-Haitien.
The administration of Haitian President Michel Martelly said in a statement Thursday that the decree approved by the Council of Ministers on Wednesday will ban construction, fishing and hunting in mangrove forests. People will be forbidden from cutting, selling or otherwise making use of the trees.
Environmental problems abound in Haiti. Only 2 percent of the country still has trees because of decades of deforestation, mostly caused by the longtime common practice of chopping down trees to make charcoal as an inexpensive source of fuel.
The U.S. government has allocated $170 million to build a port and a power plant to serve the recently constructed Caracol Industrial Park, a $300-million facility that is the United States' biggest investment in Haiti since the 2010 earthquake.
An environmental impact study has been commissioned by the U.S. Agency for International Development before port construction can begin. In a written statement, agency spokeswoman Anna-Maija Mattila-Litvak declined to comment on the possible impact Haiti's latest move could have on port plans until the environmental study has been completed. She said she did not have information about when the impact report would be finished.
The U.S. Government Accountability Office said in a report last month that the Caracol industrial park, the power plant and port are "interdependent" and that all of them must be constructed for the others to succeed. The same study also said that USAID needed to fill a vacant post for a port engineer, who will oversee port planning and construction.
In the meantime, another port in nearby Cap-Haitien doesn't have the infrastructure to support Caracol, so supplies for the industrial park are now being shipped out of the neighboring Dominican Republic. The park's main tenant, the South Korean manufacturing firm Sae-A Trading Co. Ltd., has already moved in and has begun work making T-shirts.
Caribbean can rise above challenges
7/4/2013
It is only in the context of a properly functioning integration movement that the Caribbean region, now more closely knit than ever, can rise about the daunting challenges it now faces.
This was the message sent by Prime Minister of Barbados, The Honourable Freundel Stuart, on the occasion of the 34th Conference of the Heads of Government of the Caribbean Community (CARICOM) last night in Port-of-Spain, Trinidad and Tobago.
Prime Minister Stuart noted that the founding fathers of the regional integration movement all understood that politics is ultimately about using power to make the lives of people better socially, politically and economically.
"They believed that their best chance of making the lives of our people better was by bringing our countries much closer together in a relationship of shared aspirations, shared effort and shared resources. Their initiative sprang from a deeper and even more important belief – that of the uniqueness and the special importance of our Caribbean region," the PM remarked.
"It cannot be denied that from time to time on our regional journey, we have faced challenges which have tended to make the achievement of our goals more difficult. But, I contend that on any objective evaluation of CARICOM over the last 40 years, it would have to be conceded that the people of the Caribbean …are more closely knit today than at any other time in the region's history. Whether we are talking about trade, transport, education, health, agriculture, the Caribbean Sea and the environment, culture, sport, politics or even marriage, our people across the Caribbean have shown a growing faith in the future of this regional space," Stuart stressed.
He acknowledged that the global economic crisis has not left Caribbean countries unscathed, but he noted that on the other hand, the people of the region have proven themselves to be quite resilient.
"The economic downturn which has been haunting the world since the last quarter of 2007 was not of CARICOM's making, but CARICOM must face and deal with the inevitable fall out.
"The people of this region are not strangers to daunting challenges. Our history of slavery, indenture and racism has more than prepared us to deal with the challenges that have come our way. Present problems of debt and deficit, of unemployment and low or no growth are a continuing challenge to the character and resilience of our people. The global crisis is bad enough for the damage which it has done; but it is worse for what its continuation portends," he added.
"It is at a moment like this that the leaders of this region have to be reminded that our people do not live by bread alone, but also by the continued affirmation of faith in the values and the virtues of the civilization which the regional integration movement is intended to reinforce" the PM advised.
"Our people must be reminded that it is only in the context of a properly functioning integration movement that we can find that crucible in which our social and economic arrangements can be melted and recast," he contended. (RSM)
World Trade Organisation Director Calls For Closer Caribbean Intergration
Sounds like a call for Caribbean Maritime Exchange

PORT AU PRINCE, Haiti - Director General of the World Trade Organisation Mr Pascal Lamy has emphasised that the Caribbean Region needs closer integration.

Speaking at the launch of the Caribbean Community (CARICOM) Regional Aid for Trade Strategy in Port au Prince, Haiti on Tuesday, Mr Lamy said the strategy sought to build on the promise of a Region free of barriers by identifying transformative projects that support closer integration.

"The Caribbean needs closer regional integration. And as you celebrate the 40th anniversary of the signing of the Treaty of Chaguaramas this year, I think it is a fair question to ask how the Region can accelerate the pace which I witnessed some ten years ago when I was still the EU Commissioner and how it can honour the ideas of Williams, Burnham, Barrow and Manley — the founding fathers of the integration movement," he added.

Mr Lamy said the best way to honour the architects of the Caribbean Community was to recommit to regional integration as the most successful and economically viable route towards greater and sustained development for the Region.

The Region, the Director-General said, had made some initial but crucial steps in concretising the role that Aid for Trade could play in its economic development. Mr Lamy identified Belize and Jamaica as having launched two excellent national strategies, both of which, he said, were profiled in Geneva, headquarters of the WTO, as examples of best practice.
Caribbean must take advantage of TIFA accord with US - Kamla
PORT-OF-SPAIN, Trinidad, Monday June 10, 2013 – The third annual Caribbean investment Forum (CIF) began here on Monday with delegates being urged to take advantage of the recently signed Trade and Investment Framework Agreement (TIFA) between the United States and Caribbean Community (CARICOM) countries.
Prime Minister Kamla Persad-Bissessar, addressing the opening of the two-day event, said the accord which was signed during the recent visit of United States Vice president Joe Biden to the Caribbean provides an opportunity to expand trade for the benefit of the region, individual states and "every citizen in our respective countries.
"The Caribbean Investment Forum must take advantage of the leverage offered by this renewed international involvement in the region," she said, adding that Caribbean countries should also seek to take advantage of the opportunities being provided by China as a result of the visit of President Xi Jingping.
"President Xi's offer of TT$3 billion (One TT dollar = US$0.16 cents) is of particular significance for our national development. And I want to announce today that Trinidad and Tobago would be able to immediately access these funds to accelerate the development of business/commercial and industrial parks throughout Trinidad and Tobago," she said.
She told more than 100 business executives from leading global companies, as well as regional and international business investors, that Port of Spain will be establishing seven such parks on 592.1 acres of land representing an investment of TT$833 million.
She told the CIF that Trinidad and Tobago had also signed a memorandum of understanding (MOU) with the United States Department of Energy, to establish a Renewable Energy Research Centre here so as to promote the rapid deployment of critical technologies for renewable energies to our country and also the wider Caribbean.
Persad-Bissessar said that during her recent visit to Canada she took the opportunity to push for public/private sector partnerships and that Port of Spain and Ottawa "have successfully collaborated to organize, for the benefit of the Caribbean region, a public-private partnership (P3) symposium, to assist the governments of the region build capacity in designing and implementing P3 projects".
She said that in order to develop a "more diversified, knowledge intensive economy" Trinidad and Tobago has created two new institutions related to competitiveness and innovation with the goal being to support human capital development and build knowledge networks.
She said in 2014, Port of Spain will host the annual Americas Competitiveness Forum (ACF) whose objective is to facilitate the development of businesses and promote the exchange of ideas and knowledge to enable the countries of the Americas to become more innovative, productive and competitive.
Persad-Bissessar said that the ACF dialogue reaches the highest levels as delegates comprise of heads of state, governments as well as ministers of finance, trade, planning and key business representatives.
"Ladies and Gentlemen, I firmly believe that CARICOM, the wider Caribbean area that includes Latin America are at a critical development juncture.
"Notwithstanding the promises and generous gifts of international partners, and the challenges facing small-island developing Nations like those in the Caribbean, I believe that we are being called upon to display a level of maturity, innovation and enterprise that belies our geographic and resource reality.
"The question we must all ask ourselves is whether we up to the challenge," she said, adding "the reality is that we have very little choice in the matter.
"Each country may have its own unique limitations but when we work together we have the potential to go further and faster," she told the delegates to the CIF that is being presented by invesTT, Trinidad and Tobago's investment promotion agency, whose mission is to develop the island's non-oil and gas sectors. (CMC) Click here to receive free news bulletins via email from Caribbean360. (View sample)
How about using some of this resource along with China's money to impliment a holistic approach to position the Caribbean as a functional, contributing member of the Global logistics and supply chain?
Belize Tourism Industry Association Objects Southern Cruise Port Development
Indications are that Norwegian Cruise Line is underway in purchasing Crawl Caye, located in the South Water Caye Marine Reserve (a recognized UNESCO World Heritage Site), for a large tourism project which includes two cruise ports of entry in the Stann Creek District. This week the Belize Tourism Industry Association (BTIA) joins Placencia residents against the giant cruise port development, citing several environmental impacts to the area and economic impacts to the country.
Belizean Minister Godwin Hulse is said to be heading a sub-committee for the project, while there are a couple cabinet minister that are against it. The project involves a 30-year concession which would include exemptions on import duties, income tax, general sales tax among other incentives, the use of foreign labor, fast tracking of permits, including environmental, construction, dredging and filling permits and operation of passenger tenders.
Below is a press release from the BTIA indicating their reasons for objecting the project:
- Press Release, Belize City, May 29, 2013 - The Belize Tourism Industry Association (BTIA) views with alarm, the continued ongoing talks about Norwegian Cruise Line (NCL) establishing a major cruise port off the coast of the southern Stann Creek District due east of the Placencia Peninsula. The BTIA stands firmly against this proposed establishment in Southern Belize for the following reasons:

Three years ago the BTB's own independent consultant concluded that Government should not permit the establishment of a cruise port in the Placencia area. Less than a year ago Cabinet gave its full support to the long anticipated Sustainable Tourism Master Plan. This exhaustive study, financed by the Inter-American Development Bank (IDB), was emphatic that southern Belize remains an eco-friendly low impact destination. Where the study did address the cruise issue, its recommendations were clear and emphatic: "Pocket cruise tourism is the only acceptable form of cruise tourism on the south eastern coast of Belize". The report went on to define "pocket" cruise ships as those with less than 250 passengers. NCL's ships now coming to Belize carry over 2,000 passengers and those of other lines that are likely to be using this new port facility are even larger.
By opening the Southern portion of the country to large scale cruise ship visitation, the proposal fundamentally contradicts the country's tourism master plan and irrevocably positions Belize as a mass tourism destination. This 180 degree shift from Belize's identity as an authentic ecocultural destination is inexplicable in view of the uninterrupted success of Belize's dynamic overnight tourism sector. Overnight tourism, according to the Belize Tourism Board's (BTB) own statistics, not only weathered the global recession with minimal disruption but rebounded in 2012 with impressive 10 percent visitor growth and record breaking visitor arrivals. This trend was maintained in the first quarter of 2013 and is predicted to continue.
Additionally, huge investments, in excess of $6M are now being made under the IDB/BTB Sustainable Tourism Management Project in Memorial Park and the Fort George Tourism Zone in development of the commercial capital for present development of the cruise industry in Belize City. It is clear that the establishment of a large cruise port in southern Belize would eventually draw ships away from Belize City causing a significant loss on those investments being done today, as well as result in a serious loss of income and jobs to those tour operators, guides, tender owners, bus drivers, taxis, craft sellers and other service providers now operating in the commercial capital.
When coupled with the obvious environmental damage the cruise port would cause to its pristine marine surroundings and the potential of Belize being de-certified from UNESCO as a World Heritage Site (for development within those areas) it is clear that the NCL proposal is totally incompatible with the sustainable development of Belize's vital tourism industry.
The BTIA urges Cabinet and the Minister of Tourism in particular to consider all the ramifications of this proposed project and reject it outright and immediately.
Should it be home to Caribbean Maritime Exchange?
By Michael W Edghill
CJ Contributor
On Tuesday, United States Vice President Joe Biden met with CARICOM leaders in Port of Spain as part of a regional tour with scheduled stops in Colombia and Brazil.
Perhaps even more intriguing is the fact that the Vice President of the United States is not the most notable diplomatic visit of the week, as the President of China, Xi Jinping, will be making a scheduled visit beginning on May 31.
That two of the great world powers would make such high profile appearances in Trinidad when traveling to the region makes one wonder if Trinidad has become the de facto capital of the Caribbean.
While it may be argued that Trinidad ends up hosting these events on behalf of the other Caribbean states simply due to its infrastructure that other nations in the region may not have, credit must be given to the government of Trinidad and Tobago for investing in building and modernizing these facilities. Those improvements have allowed Port of Spain not only to play host to these current high-profile guests, but to play a pivotal role in hosting the 2009 Summit of the Americas.
Hosting foreign dignitaries for meetings with Caribbean leaders is not the only role that Trinidad plays in the region.
Since its creation in 2001, Port of Spain has housed the Caribbean Court of Justice, which was established to replace appeals to the British Privy Council. The Trinidadian capital also hosts the headquarters for the Secretariat of the 25-member Association of Caribbean States.
Of course, these facts in isolation do not point to an assumption of regional leadership on the part of Trinidad and Tobago. Taken collectively though, they signal a trend in the recognition of the weight and influence that Trinidad has in the region.
Much of that influence can be attributed to the relative financial stability of Trinidad when compared with its neighbors in the Caribbean.
While Jamaica struggles to get its financial house in order and many other Caribbean nations are over reliant on tourism dollars and remittances to support their economies, the energy sector foundation of the Trinidadian economy has helped the nation to avoid some of the financial pitfalls of its regional neighbors.
It has even led Trinidad to be a lender nation to other CARICOM states through programmes such as the Petroleum Fund.
It is widely known that the United States and Canada serve as the destination for many Caribbean nationals in search of better economic opportunities. What may not be as well-known is that Trinidad also serves as a destination for other members of the regional diaspora who seek better job opportunities.
Emigration to Trinidad can also be easier for many other nationals of CARICOM states through the freedom of movement clause in the revised Treaty of Chagauramas.
The influence of Trinidad and Tobago can also be seen in the evolution of state owned Caribbean Airlines, which acquired Air Jamaica in 2011 and continues to aggressively compete with LIAT. That competition, Trinidad -owned Caribbean Airlines versus LIAT; owned by several other Caribbean states; provides a small window into the dynamic of Trinidad and Tobago and the other Caribbean states.
Again, in isolation, each one of the preceding facts do not necessarily signal a de facto recognition of Trinidad & Tobago as the political capital of the Caribbean.
Taken collectively, however, one can see that the influence that Trinidad has wielded regionally over the last decade or so is being recognized internationally by those who wish to, for whatever reason, create a stronger economic and political bond with the Caribbean.
One need look no further than the recent interest shown by both the United States and China.
Michael W Edghill, a Caribbean Journal contributor, teaches courses in US Government & in Latin America & the Caribbean in Fort Worth, Texas. He has been published by the Yale Journal of International Affairs, Diplomatic Courier, the Trinidad Guardian, and others.
CARICOM-US to sign trade accord
Time is now for Caribbean Maritime Exchange implimentation
Saturday, May 25, 2013
|
PORT OF SPAIN, Trinidad (CMC) – The Caribbean Community (CARICOM) countries will sign a trade investment framework agreement with the United States during the visit of Vice President Joe Biden to Trinidad and Tobago next week.
Biden is due in Port of Spain on Monday for a two-day visit and will also meet with regional leaders to discuss security and other issues.
A statement issued by the Guyana-based CARICOM Secretariat Saturday said that during the visit energy, security, human and social development as well as trade and investment will be among the general themes of the discussions on Tuesday.
The CARICOM leaders will also be joined by the Vice President of the Dominican Republic and according to the CARICOM Secretariat "a highlight of the encounter will be the signing of a Trade and Investment Framework Agreement (TIFA) between CARICOM and the United States".
CARICOM Chairman President Michel Martelly of Haiti will sign on behalf of the 15-member regional grouping, while Biden will sign on behalf of Washington.
"The meeting will chart the way forward for the TIFA including an initial action agenda intended to galvanise trade and investment activities both between the two sides and within CARICOM. To aid in this regard a Council will be established, led by a nominee of the CARICOM Chair and the Office of the US Trade Representative (USTR)."
The Council is expected to meet at least once a year and would among other things monitor trade and investment relations, identify and work to remove barriers to trade and investment.
It would also facilitate expanded linkages between the private sectors on both sides. In 2011, the last year for which finalised figures are available CARICOM had a favourable trade balance with the US amounting to US$1.2 billion with exports totalling US$8.6 billion.


Read more: http://www.jamaicaobserver.com/latestnews/CARICOM-US-to-sign-trade-accord#ixzz2UPedjh4y
Medium-sized and small forwarders are having to rethink their business strategy as they can no longer compete on price alone in a continuously fierce market. As the largest multinational 3PLs go for broke over each customer deal, other companies are left by the wayside in a tendering process that focuses ever more closely on cost.
"The major forwarders are all trying to take a larger share of the corporate business," the chairman of one medium-sized forwarder told The Loadstar. "We are losing business. For us to compete we have to have some kind of niche, or relationship, or track record."
Even among the large forwarders, who are likely to be able to get the same sort of pricing from the carriers, it is becoming harder to differentiate from rivals, said Dominik Tichelkamp, chief operating officer for CEVA Logistics. "If it's just shipping a container - it's a commodity. A lot of companies can do that.
"Competition has become fiercer. It has become more difficult to identify a USP - you really have to invest a lot of energy and innovative thinking into it." He denied that recent market speculation surrounding CEVA's financial restructuring had made it harder to win tenders. "CEVA's refinancing did not have an impact on our negotiating power," he said.
One mid-sized forwarder noted: "Small and medium-sized forwarders have probably got to merge or die. But I think it's about niches - find out what you are really good at. Being a general freight forwarder is difficult. We have good relations with our customers - but you can still get hammered by a new purchasing manager. They are unable to say 'yes, your existing suppliers are great'.
"I'm not despondent - no more than usual, anyway," he added. "It's tough. Forwarders have got to be more innovative - you can't just roll along any more, you have to be proactive. You have to invest more in IT and communications as a selling tool - it doesn't matter how nice you are or how good you are, you need to be cutting edge."
Not only has the narrow focus on price made differentiating on service harder to achieve, but shippers are changing the way they work. Big multinationals shippers have started to invest more in their own logistics departments, enabling them to deal directly with the carriers and squeezing the role of the freight forwarder.
While Mr Tichkamp argued that he is seeing a long-term trend towards a higher market share for forwarders rather than carriers, one supply chain expert explained: "The larger shippers are getting more active in dealing directly with carriers, which is where the dead hand of procurement comes in. This has meant the relationship with forwarders has changed. Big shippers don't need the old fashioned freight forwarder who would buy a certain amount of slots from carriers and then retail them to shippers. There is still a role for these forwarders in representing smaller shippers who need that leverage, but for the big shippers forwarders are increasingly being used for freight management services."
One sales executive at a Top 20 forwarder agreed. "Realistically, the big shippers work with the carriers directly, or the big forwarders go for loss-leading deals. We go for the mid-range market - maybe up to 4,000 teus. They don't want to go to the carrier direct and are looking for a forwarder to provide management services, with more added value. The price is important, but there is also the option to pay a little more. Big forwarders go for transactional-type services - we offer full services for a market price."
She added that the big multinationals often find it hard to offer a bespoke service. "They don't tell customers the schedule; the carrier is at their discretion. We offer a more flexible operation."
The chairman at a rival group claimed: "Some major forwarders won't deal with queries after 6pm, for example. The big forwarders can make lots of money out of a square box, that fits into a square box system. But do they have the capability to manage a box that's changed shape?"
He explained: "We love coming second in the tender process. For smaller forwarders, it's better to be niche than the guy who has got the main contract. It's 'back-door' forwarding. The customer likes to know there's an alternative if the main contract goes wrong. Many companies can only use those companies nominated in the tenders - which makes it hard for them to deal with an emergency. We've seen cases where a major forwarder has won, looked at it more carefully and then didn't carry a single kilo."
But, he said, the tender process can be difficult. "You have to put the price in exactly in accordance with the requirements - regardless of how irrelevant or stupid the questions are. You just have to answer and fill in the boxes. The service evaluation is last, so don't try to differentiate too early in the process."
The supply chain expert warned that forwarders must offer more, and shippers should ask different questions. "People are looking for more from their freight forwarders, and what is unforgiveable is to submit a cookie-cutter tender. You have to do a lot more research now – go through the company's accounts, understand the points where the stock is turning, and when you go into the tender, one of the least important things ought to be the price of freight, because as a proportion of the overall cost it is still relatively small. A more important question ought to be 'how will you manage my inventory?'."
The humble hero
Containers have been more important for globalisation than freer trade
·
·
THE humble shipping container is a powerful antidote to economic pessimism and fears of slowing innovation. Although only a simple metal box, it has transformed global trade. In fact, new research suggests that the container has been more of a driver of globalisation than all trade agreements in the past 50 years taken together.
· Containerisation is a testament to the power of process innovation. In the 1950s the world's ports still did business much as they had for centuries. When ships moored, hordes of longshoremen unloaded "break bulk" cargo crammed into the hold. They then squeezed outbound cargo in as efficiently as possible in a game of maritime Tetris. The process was expensive and slow; most ships spent much more time tied up than plying the seas. And theft was rampant: a dock worker was said to earn "$20 a day and all the Scotch you could carry home."
·
Containerisation changed everything. It was the brainchild of Malcom McLean, an American trucking magnate. He reckoned that big savings could be had by packing goods in uniform containers that could easily be moved between lorry and ship. When he tallied the costs from the inaugural journey of his first prototype container ship in 1956, he found that they came in at just $0.16 per tonne to load—compared with $5.83 per tonne for loose cargo on a standard ship. Containerisation quickly conquered the world: between 1966 and 1983 the share of countries with container ports rose from about 1% to nearly 90%, coinciding with a take-off in global trade (see chart).
The container's transformative power seems obvious, but it is "impossible to quantify", in the words of Marc Levinson, author of a history of "the box" (and a former journalist at The Economist). Indeed, containerisation could merely have been a response to tumbling tariffs. It coincided with radical reductions in global trade barriers, the result of European integration and the work of the General Agreement on Tariffs and Trade (GATT), the predecessor of the World Trade Organisation (WTO).
Yet a new paper aims to separate one effect from the other. Zouheir El-Sahli, of Lund University, and Daniel Bernhofen and Richard Kneller, of the University of Nottingham, looked at 157 countries from 1962 to 1990. They created a set of variables which "switch on" when a country or pair of trading partners starts using containers via ship or rail (landlocked economies, such as Austria, often joined the container age by moving containers via rail to ports in neighbouring countries, such as Hamburg in Germany). The researchers then estimated the effect of these variables on trade.
The results are striking. In a set of 22 industrialised countries containerisation explains a 320% rise in bilateral trade over the first five years after adoption and 790% over 20 years. By comparison, a bilateral free-trade agreement raises trade by 45% over 20 years and GATT membership adds 285%.
To tackle the sticky question of what is causing what, the authors check whether their variables can predict trade flows in years before container shipping is actually adopted. (If the fact that a country eventually adopts containers predicts growth in its trade in years before that adoption actually occurred, that would be evidence that the "container" jump in trade was actually down to some other pre-existing trend.) But they do not, the authors say, providing strong evidence that containerisation caused the estimated surge in trade.
What explains the outsize effect of containers? Reduced costs alone cannot. Though containers brought some early savings, shipping rates did not drop very much after their introduction. In a 2007 paper David Hummels, an economist at Purdue University, found that ocean-shipping charges varied little from 1952 to 1970—and then rose with the cost of oil.
Put them in a container
More important than costs are knock-on effects on efficiency. In 1965 dock labour could move only 1.7 tonnes per hour onto a cargo ship; five years later a container crew could load 30 tonnes per hour (see table). This allowed freight lines to use bigger ships and still slash the time spent in port. The journey time from door to door fell by half and became more consistent. The container also upended a rigid labour force. Falling labour demand reduced dockworkers' bargaining power and cut the number of strikes. And because containers could be packed and sealed at the factory, losses to theft (and insurance rates) plummeted.
Over time all this reshaped global trade. Ports became bigger and their number smaller. More types of goods could be traded economically. Speed and reliability of shipping enabled just-in-time production, which in turn allowed firms to grow leaner and more responsive to markets as even distant suppliers could now provide wares quickly and on schedule. International supply chains also grew more intricate and inclusive. This helped accelerate industrialisation in emerging economies such as China, according to Richard Baldwin, an economist at the Graduate Institute of Geneva. Trade links enabled developing economies simply to join existing supply chains rather than build an entire industry from the ground up. But for those connections, the Chinese miracle might have been much less miraculous.
Not only has the container been more important than past trade negotiations—its lessons ought also to focus minds at future talks. When governments meet at the WTO's December conference in Bali they should make a special effort in what is called "trade facilitation"—efforts to boost efficiency at customs through regulatory harmonisation and better infrastructure. By some estimates, a 50% improvement in these areas could mean benefits as big as the elimination of all remaining tariffs. This would not be a glamorous outcome, but the big ones seldom are.
Sources
"Estimating the Effects of the Container Revolution on World Trade", by Daniel Bernhofen, Zouheir El-Sahli and Richard Kneller, Lund University, Working Paper 2013:4, February 2013
"Transportation Costs and International Trade in the Second Era of Globalisation", by David Hummels, Journal of Economic Perspectives, 21(3): 131-154, 2007
"Trade And Industrialisation After Globalisation's 2nd Unbundling: How Building And Joining A Supply Chain Are Different And Why It Matters", by Richard Baldwin, NBER Working Paper 17716, December 2011
Economist.com/blogs/freeexchange
From the print edition: Finance and economics
| | | | |
| --- | --- | --- | --- |
| Project Aims to Increase Food Security in the Caribbean | | | |
Port of Spain, May 16 (Prensa Latina) The Caribbean Institute for Research and Development of Agriculture announced a project here today aimed at increasing food security in the region, confronting the challenges imposed by climate change.
This is a sub-regional intergovernmental organization belonging to the Caribbean Community, with headquarters in Trinidad and Tobago, whose purpose is to contribute to agricultural development through research and provision of appropriate technologies for farmers.

The project, presented at a two day long meeting, is aimed at the production of plant materials that are resistant to extreme weather conditions, which must be placed in the hands of farmers to ensure that consumers have access to these nutrients.
But there was no discussion of how these perishable food products will be packaged and shipped and distributed among the members of the CARICOM, when all parties know the corrupt and inept ports increase freight costs by 30%. It is also know that perishables in transit suffer another 30% loss through spoilage even in the best supply chains.


Four countries in the area will implement the program: Belize, where they will grow corn and beans, Barbados (sweet potato and yam), Saint Kitts and Nevis (sweet potatoes, beans, peas and pigeon peas) and Trinidad and Tobago (sweet potatoes and corn).

The European Union supported the regional project with the delivery of a subsidy of up to 8.60 billion euros, according to the news service reported by Caribbean News Now.

The Deputy Permanent Secretary of the Ministry of Food Production, Stephanie Elder-Alexander, highlighted that climate change is the predominant environmental issue today.

He pointed out that the planet is getting warmer due to increased burning of fossil fuels, deforestation and poor agricultural practices.

It is expected, he said, that global temperatures will rise from 0.7 to two degrees Celsius by 2060, with which will increase the demand for irrigation water, the spread of pests and diseases, resulting in a decline in crop yields, soil salinization and increased frequency and intensity of hurricanes.

In this context, the official called for more research, mainly in the area of biotechnology, directed to mitigating the reduction levels of food production as a result of climate change.
Dueling shipping languages- Spanish speakers meet in Porto Cortes English speakers in Freeport
From May 13 to 16 Honduras will be the site of a meeting of the main port operators and authorities in Central America and the Dominican Republic.
During that same period the Caribbean Shipping Association will be meeting in Freeport, Grand Bahama to discuss port and trade efficiency.
Neither has invited delegates from the Caribbean Maritime Exchange to participate in the discussion or recommend potential solutions. And the fact the two Caribbean bodies are meeting at the same time clearly indicates a major gap that must be overcome before the Caribbean Maritime community finds a holistic solution to participation in Global Trade
The main topics of discussion at the Honduras event will include: Efficiency in Receiving Cargo and Ships, Optimization of the Supply Chain Process, Developments in Port Operations, Private Public Participation Processes, Uniform Processes for the Reception and Handling of Ships, Effects of Climate Change in Port Areas, Impact and Regulatory Compliance on Measures for the Prevention of Pollution from Ships in Port Operations (MARPOL), Port State Control of Illegal, Unreported and not Controlled Fishing, Development of the Cruise Industry, Maritime Security and Port Security, among other topics.
The meeting will involve representatives from leading operators and port authorities in Belize, Costa Rica, El Salvador, Guatemala, Honduras, Nicaragua, Panama and the Dominican Republic, and major and recognized experts, to hear at first-hand the experiences and direct knowledge of the ports of the region.
For Honduras, and particularly for the ENP, the event is important given the transformation processes in Puerto Cortes, needed to improve flow and create an efficient supply chain in Honduras.
Fitch Not Upbeat On Jamaica-IMF Deal
1 Comment
The UNITED States (US)-based international ratings agency, Fitch, has welcomed Jamaica's US$958 million four-year extended fundfacility agreement with the International Monetary Fund (IMF), but warns of high implementation risks, given the country's "erratic record in completing previous IMF programmes".
The IMF last week announced the agreement and, according to its first deputy managing director, David Lipton, the main objective of the programme is to put public debt on a firmly downward trajectory and thereby create a virtuous cycle of debt sustainability and highereconomic growth.
In a statement, Fitch said while the deal is important to Jamaica's attempts to "stabilise domestic confidence, manage external vulnerabilities and increase the sustainability of public finances", it may prove difficult to implement given the "demanding targets" and inconsistent track record.
"Jamaica's credit profile has come under pressure in recent years as a result of weak growth, high debt, deteriorating fiscal accounts and increasing balance of payments pressures. Key external indicators have continued to worsen in 2013 and pressure on the currency has remained intense.
"Jamaica's gross international reserves position declined from US$2.9 billion at the end of 2010 to US$2 billion at the end of 2012, and the balance has deteriorated further to US$1.7 billion at the end of March," the statement said.
Fitch upgraded Jamaica to 'CCC' from 'RD' in early March after it completed the National Debt Exchange.
"The current rating reflects our continued concerns regarding public debt sustainability and still high external financing needs. It incorporates the high degree of implementation risk that the Government continues to face in following through on the IMF-monitored reform programme, as well as uncertainty over Jamaica's growth trajectory," Fitch said.
The IMF's mission chief in Jamaica, Jan Kees Martijn, said the country's economic future is hinged on the resolve of the authorities and other stakeholders to adjust policies to lower debt to a sustainable level and establish the conditions for durable growth.
"The authorities' programme provides a realistic road map to achieve these goals. In this context, I am encouraged to see the creation of a broad-based, private sector-driven committee to provide oversight of policy implementation."
Difficult moments
He said there would be "difficult moments, and it will be important to ensure that everyone understands the purpose of the steps that are to be taken".
The IMF said the four-year EFF will support the Government's comprehensive economic reform agenda and forms a critical part of a total funding package of US$2 billion from Jamaica's multilateral partners, including the World Bank and the Inter-American Development Bank (IDB), with each having preliminarily agreed to allocate US$510 million over the next four years.
It said the approval enables an initial disbursement by the Washington-based financial institution of US$207.2 million.
Port development won't come anytime soon
CHEC retreats from Caymen Deal
The proposed agreement with a Chinese government-owned construction company to build cruise berthing facilities in George Town harbour could have been salvaged, according to the project's manager. Alastair Paterson, who was appointed by government in July 2012, said he was dismayed at the amount of work that had been done and money spent only for the cruise berthing project to be back at square one.
Mr. Paterson believes construction could be already under way had a deal with the China Harbour Engineering Company, or any of the other interested developers, gone ahead. Now he warns it could be 12 months before the cruise berthing project breaks ground.
A request for proposals from financial consultancy firms to produce a new business case for the facility is expected to go out Friday - the first step in the process of following the UK's framework for fiscal responsibility on the port deal. Mr. Paterson said the consultants would be essentially repeating work that had already been done.
"Time should be of the essence as the Cayman Islands cannot 
afford to miss out on future cruise ship development," Mr. Paterson said.
"There is major competition in the region. Roatan, Jamaica and who knows possibly even Cuba could dilute arrivals here and hurt this economy.
'If it has to be done it has to be done but I have to say I am personally disappointed after all the efforts that have gone into this project so far and there is now nothing to 
show for it."
The former project manager dismissed speculation, based on a leaked "framework agreement" with the Chinese, that government was giving too much away to the developer. He said that document was simply a starting point for negotiations and was substantially revised after he came on board.
Mr. Paterson said one of his first actions as project manager was to redraft the "framework agreement" – the document leaked to the media last month - which he said had never been anything more than a discussion document.
Zhongdong Tang, a spokesman for the China Harbour group, said the company still considered itself to be involved in the project and could not comment on the details.
He said: "China Harbour didn't receive any official letter from the government of Cayman Islands up to now regarding the terminated discussions, so we both are now still in the process of proper negotiations for the agreement of build-finance-operate a cruise terminal in George Town."
The statement appears to contradict earlier expressions of disappointment from the firm after former Premier McKeeva Bush publicly announced the negotiations had been abandoned because of the UK's insistence that specific procurement regulations were followed.
The original framework document, published on the Internet last month, allowed China Harbour to collect all passenger taxes and tendering fees and contained a lease agreement that would have given the Chinese control of the port, including a planned hotel and shopping development, for 50 years with an option for a further 30.
Mr. Paterson insisted that this was not the deal on the table when it was scuttled in November. He said it had been substantially renegotiated to maintain government revenue and protect Caymanian jobs and businesses.
The revised draft 'concession agreement', provided to the Compass, would have given the Cayman Islands government a 20 per cent share of the passenger taxes (currently charged at $7.50 to $9.50 per passenger) over the $1.5 million mark, though this was still under discussion, Mr. Paterson said.
Only the tendering fees for the four ships docked would have gone to the developer. The private sector company, currently operating the tender service for ships at anchor, would have retained their fees for the service still necessary when more than four ships visited.
The other aspect of the deal offering a lease extending to 80 years to the Chinese for portside development was scrapped, Mr. Paterson said. He said an agreement was struck to form a limited liability company as a partnership between the government, local traders and the Chinese for any future development depending on the need. Negotiations with China Harbour also included current Port Authority debt being assumed by the developer as well as a reorganisation of cargo handling to improve operations. Current revenue by the Port Authority of $3 per cruise passenger was to be retained by them and was not part of the financial arrangements with the developer, Mr. Paterson said.
He said the deal being discussed included substantial improvements at the Spotts landing. The improvements included the construction of onshore facilities, parking and traffic circulation as well as an upgraded landing dock.
"That contract was nearing a process of competitive tendering with local contractors when the project was terminated," he said. "The anticipated contract was estimated at approximately $6 million and would have been carried out entirely by local businesses and not the Chinese."
There was some payback for whichever developer built the port, he conceded.
"No one is going to build us a port out of charity," Mr. Paterson said. "A developer will want to be repaid and receive a return for their investment. This is a major marine development. The government can't invest, it can't put up any equity or guarantees and it can't provide any expertise. Any partner appointed to be the developer will be assuming most if not all of the risk associated with their investment.
"Whichever developer is chosen –whether it is Dart, GLF, the Chinese or the cruise ships – they will all be in the same position. They will all have to invest a substantial amount, with little or no security. Even the cruise ships will want to get their money back in one way or another.
"The current preference seems to be for the cruise lines to develop the facility. While this partnership has a number of advantages, there could be a negative effect on the local traders. Go to any port developed by the cruise ships in the Caribbean and the amount of spending with local businesses can be debated. Substantial on shore spending money is earned by the cruise business. There is nothing wrong with that as they are in business to make money but it does not necessarily help the local economy."
There may be few companies worldwide capable of such an undertaking, Mr. Paterson said.
"Only a select few firms globally have the ability to carry out this type of work, particularly as they will have to provide not only the design and construction but also the funding, estimated at around $200 million. Few will be prepared to risk that investment or have the ability to provide that level of funding as well as the expertise in design and build."
CHEC turns down Fort Augusta development
BY ALICIA DUNKLEY-WILLIS Senior staff reporter dunkleya@jamaicaobserver.com
Wednesday, May 01, 2013
PRIME Minister Portia Simpson Miller said yesterday that the decision by China Harbour Engineering Company (CHEC) not to proceed with plans to establish a new trans-shipment port at Fort Augusta -- now serving as the island's sole female prison -- is not an abandonment of the project.
"A few weeks ago, the principals of CHEC came back to the Port Authority of Jamaica indicating that after assessing the Fort Augusta location they no longer had interest in the project. The reason, Mr Speaker is not that they have lost interest in Jamaica; rather they have radically expanded the scope of their projected investment interest in Jamaica," the Prime Minister told Parliament during her contribution to the 2013/14 Budget Debate at Gordon House in Kingston.
"Based on their own plans, as well as the increased interests from other potential users of the port and logistics facilities, Fort Augusta was simply not big enough to provide the space they need," she said.
Nearly a year ago the Government announced that the Port Authority had signed a Memorandum Of Understanding (MOU) with CHEC for that company to explore the feasibility of establishing a new trans-shipment port at Fort Augusta.
Simpson Miller said yesterday that the final location for the project, which is still to be determined, will be a direct investment of CHEC and its parent company, China Construction and Communications Company (CCCC), a Fortune 500 company.
The preliminary estimates of the mega investment are between US$1,200 million and US$1,500 million.
The hub is expected to consist of transshipment facilities, a logistic centre, industrial plants, a cement plant and perhaps a power plant.
Simpson Miller told the House that the extension to the MOU signed by CHEC and the Port Authority would run for another year to allow for all the relevant studies to be conducted, including environmental assessments.
"Let me assure the country that no special concessions will be given in that regard," she said.
The prime minister said the logistics hub is a central plank of the country's overall growth strategy and potentially represents US$9 billion of Foreign Direct Investment. "It has the prospect of generating tens of thousands of jobs in a wide variety of fields for the construction and operational phases," the prime minister said.
In the meantime, she said work continued apace on the roll-out of the enabling systems to realise the successful implementation of the initiative. "So far, we have issued request for proposals and have received positive responses," she added, noting that further details would be provided in the short term.
China backing out of Jamaica transshipment port at Fort Augusta
The decision by industry leader Maersk to build ships larger than the expanded Panama Canal and sail instead through the Suez Canal between Asia and Europe is beginning to have its first major ripple effects.
Already port futurists including John Vickerman are predicting that Panama and not the Caribbean, nor Miami, will provide all the necessary transshipment terminals to deal with the increased volumn of post Panamax shipping through the canal.
Two years ago the head of the Panama Canal warned only three ports in the United States would benefit from the canal's increased width with Virginia and New York/New Jersey at the top of that list.
Remove the Maersk volume from the equation and the expanded Panama Canal seems a far riskier proposition to sustain than it was when import growth in the US was predicted at 9 percent year over year, back in the silly days after Y2K.
The first sign that the charade was collapsing was the leak from PortaMiami Director, a career Dade County administrator, that he just might take that job over at the Beacon Council and let somebody else clean up the mess that is the port's misguided masterplan.
Hopefully they can throw a net over Juan Kuryla before he accepts the Jaxport executive job and keep him in Miami, where he has been running the day-to-day of the port for years.
The second sign the Post Panamax fabric is coming part is much less subtle. Jerome Reynolds of the Jamaica, Gleaner was paying attention when Jamaican Prime Minister Portia Simpson Miller in her contribution to the Budget Debate disclosed that China Harbour Engineering Company, which had agreed to build a giant new transshipment facility at Fort Augusta is looking for a way out by suggesting that the lands at Fort Augusta are insufficient for its plans.
Fort Augusta is across a shallow, easily dredgeable bay from the Port of Kingston along the Kingston Highway.
China Harbour and the Port Authority of Jamaica had signed an Memorandum of Understanding to explore the plans to establish a new transshipment port at Fort Augusta.
Simpson Miller said because of the land issues the company has indicated that it no longer has an interest in the project as it is.
She said a new construction site is needed to accommodate the planned investment by China Harbour.
Simpson Miller said the project is to be implemented over a five year period and will see the construction of transshipment facilities, a logistics centre, industrial plants, a cement plant and possibly a power plant.
She said some 2,000 workers are to be employed during constructions and another 10,000 jobs are to be created if the project is completed. So the wishful thinking and hopeful promising from the politicians continues, even in the face of a less blurry reality.
Visitors having a good time at Round Hill - File
David Jessop, Contributor

Has the time come to give greater consideration to theopportunity presented by what might be described as the space in-between: the millions of square miles of ocean and seabed that lie between the islands and countries of the Caribbean?
Largely unmapped, scarcely considered and vastly greater in promise than what for the most part is possible onshore, it offers a new frontier.
This is the implication of the progress now being made by Jamaica'sMinister of Industry, Investment and Commerce, Anthony Hylton, in encouraging investors to turn Jamaica into a maritime logistics hub for the Caribbean Basin, and in the message from others in Cariforum governments who are promoting the prospects for offshore oil and gas.
What by now should be self-evident is that the seas that surround the Caribbean can provide new opportunities for much-needed growth.
The Caribbean commands access to the widened Panama Canal and is at a north-south, east-west intersection for international shipping.
As such, it offers multiple opportunities for the creation of trans-shipment ports linked to development zones for manufacturing, the assembly of finished items and the provision of services for nations like China and Brazil, which are seeking new tariff-free ways to access markets in the Americas and Europe.
It is the sea too that offers the potential to develop new ports and industries linked to the road and rail routes that could open up areas within Brazil and the Amazon Basin or help facilitate links across the Central American Isthmus to the Pacific.
Moreover, it is the sea space that enables not just the regional and international movement of goods and services - legal and illegal - but also provides the access that brings the largest number of visitors to the region, the cruise ships.
Beyond this, there lies beneath its surface potential wealth in the form of oil and gas, minerals, and possibly rare earths as the technology to drill and recover oil and gas from huge depths now exists.
Significant challenges
As matters stand, oil exploration is under way, planned or licensing being considered in blocks off the coasts of French Guiana, Suriname, Guyana, Belize, Barbados, The Bahamas, Cuba, Jamaica; and Grenada and possibly in other islands in the Windward chain.
However, as recent developments in Belize indicate the opportunity is not without significant challenges. There, environmental groups have in the last week mounted a successful legal campaign that resulted in all offshore oil-drilling contracts between 2004 and 2007 being void.
There is also a potential global interest in the challenging opportunity of seabed mining.
Although most attention in this respect is focused on the Pacific, there are indications that in the long term, it may be possible to exploit submerged ocean ridges, undersea plate junctions and undersea thermal vents in mid-Atlantic areas.
These lie between the Caribbean and Africa and off Guyana, Suriname and French Guiana and may be, scientists suggest, resource rich in iron-manganese nodules, polymetallic sulphides and cobalt-rich polymetallic crusts.
Some also believe that rare earths contained in deep-sea muds in concentrated and extractable forms may lie beneath the oceans, although the viability and challenges of recovery presently make this seem remote.
The level of exploration now taking place in the region makes it quite possible to imagine a Caribbean, a decade from now, where some nations are energy rich, net exporters of oil and gas and in some cases trying to address the problems associated with wealth that hardly anybody is thinking about.
Some may say this is fanciful as the US and other nations are beginning to supply an ever greater amount of their energy needs from shale gas.
However, the pace at which an ever-increasing number of global oil corporations have begun to invest huge sums in prospecting for oil and gas in the Caribbean Basin suggests that before long more than one Caribbean nation other than Trinidad will become an oil or gas producer.
It is a process that responds to the continuing industrialisation and growing wealth of advanced developing economies, making the cost of deep-sea recovery viable and demand for energy is forecast.
Despite all of this, there has been no holistic accounting or mapping of the economic and physical resource that exists within the Caribbean Basin's economic zones or that may be beneath the seas beyond.
Instead individual nations - Jamaica, Cuba, The Bahamas and the Dominican Republic - have only recently turned to face the sea, recognising it as an economic opportunity that has the potential to bring investment and long-term growth.
Up to now, and Trinidad apart, almost all Caribbean economic thinking has been focused onshore, with the emphasis on commodities, manufacturing, tourism, financial services, cultural industries and only rarely on artisanal fisheries.
This is understandable as it is where immediate opportunity lies; but ignoring the spaces in between when technology is changing rapidly carries with it the danger of missing the possibility to explore the growing interest of major global companies to partner offshore with countries and local business.
Relationships
Making greater use of the Caribbean Sea is an issue that requires national, regional and international consideration as it touches physical security, policing, the environment, food and energy security, sovereignty, defence and sea-level change.
It also may also change inter-regional and geopolitical relationships if as seems possible recovery of offshore oil or gas were to occur in French Guiana, Suriname, Guyana, The Bahamas or Cuba. It would seem also to require fresh consideration of maritime security, traditional notions of sovereignty and the environmental interdependence of Caribbean ecosystems.
As the Caribbean struggles to find new ways to generate growth and greater consideration is given to making use of the seas, there is strong case for reorienting thinking and for recognising that the seas too are the Caribbean's resource, heritage and future.
David Jessop is director of the Caribbean Council. Send feedback to david.jessop@caribbean-council.org
Jamaica's Hylton explains huge intermodal plans
McPherse Thompson,
Assistant Editor - Business
Minister of industry, investment and commerce, Anthony Hyltonhas shrugged off sceptics of the much-touted logistics hub, saying there are investors willing to pump huge sums into the US$8 billion project.
"The reality is that there are people at the table prepared to and are making multi-billion dollar investments in the logistics hub," he said.
In an interview with Wednesday Business last Friday, both Hylton and chairman of the logistics hub taskforce, Dr Eric Deans, explained that the infrastructure development that comes as part of the initiative was just a minor part of the project.
Rather, said Deans, "it's a support service for logistics."
Hylton believes that there is currently a lot of confusion in the public's mind about the project.
"The logistics hub or logistics in general is not simply about ports, airports or seaports. It's about what happens behind the ports. So that, while the ports are important, it is what happens in the economic zones" where goods are processed, assembled and otherwise manufactured.
"That's where the real jobs on a sustained basis are to be created," he explained. "The population at large now think the hub is about building the Kingston port, including dredging the harbour. Those are just critical activities. While it a meaningful activity we now want to deepen that activity along the value chain to take it into the economic zones," he added.
Hylton said the opening of the Panama Canal within the next two years provides a hard timeline for Jamaica to complete three core elements of the logistics hub.
"We don't believe all the projects we have enumerated will be finished, nor is it necessary that all of them be finished" at that time, the minister said. However, he said it was necessary that a core element be finished and that core element included the dredging of the Kingston harbour, the expansion and modernisation of the port facilities and the build out of the Caymanas economic zone in St Catherine.
"Those are three critical elements that will signal to the world that we are preparing ourselves to seize this opportunity," the minister said.
Other aspects of the project will be undertaken in the ensuing years.
The quest to establish a logistics hub comes against the background of what Hylton explained was the shift in global trade, the creation of a global supply chain and the progress in the march of transportation technology with the creation of bigger ships and aeroplanes to deal with national, regional and global trade.
The whole economics of transportation then surround the issue of larger vessels making fewer stops and needing to find hubs particularly in the major centres, Hylton explained.
He cited for example ships travelling from China, offloading its cargo at the hub in Jamaica from where smaller vessels and planes transport it to the various destinations.
Deans said the intention is to make Jamaica the fourth node in the global logistics business, but to put the project in context one has to compare it with the three other hubs in Singapore, Dubai in the United Arab Emirates and Rotterdam, Netherlands.
Citing some data, he noted that Singapore, an island state about the size of Hanover with a population of five million, handles some 60 million passengers at its airport, its container terminal handles 32 million twenty-foot equivalent unit containers, and handles about three million tons of air cargo annually.
Comparatively, Jamaica handles 1.8 million TEUs - just about 10,000 tonnes of air cargo, he said.
Dubai's airport handles almost 60 million passengers annually. Its free zone has 7,000 large multi-national companies, employing 120,000 people directly and about 300,000 indirectly. Dubai only has a population of 2.5 million people, less than Jamaica's populace of 2.7 million.
Rotterdam has the largest commodity port in the world, handling almost 600 million tonnes of cargo annually.
"So when we talk about becoming the fourth node it's of that scale that we are talking about," said Deans. "That is the level of investment that we are seeking to attract," he said. "The same investors that built those three hubs are seeking to direct their investments to Jamaica."
Deans said the big manufacturers are located in the Asia-Pacific region and are looking to push their goods in Latin America, their fastest growing market. Shipping goods from that distance can take up to four weeks from China.
Given that they are competing against manufacturers in the United States and other regions, they are trying to ensure their supplies get the goods to market in the shortest possible time, he said.
"So that is why they position distribution centres strategically in regions. And that is why the Chinese have been looking so aggressively at Jamaica to position their distribution centres to supply the Latin America and North American markets," Dr. Deans added.
"From Jamaica, using either our air capacity or maritime capacity, they can get goods to market either within four hours by air or within one to two days by sea. And that is the advantage that Jamaica offers," he said.
The establishment of Jamaica's logistics hub will involve upgrading existing airports and seaports, existing industrial infrastructure as well as building new infrastructure.
It is being designed, according to the industry ministry, to put potential investors in striking distance of a market of 800 million people, including the world's largest consumer markets in North America and the South American powerhouse, Brazil.
PRIVATE-SECTOR FUNDING
Jamaica anticipates that the project will be funded entirely by the private sector and, according to Hylton, discussions with both local and international investors in that regard are advanced.
A critical component of the hub is the government's attempt to attract global third party logistics providers by getting regional companies to establish their headquarters in Jamaica by incentivising them with tax breaks.
The issue is to be covered in a master plan being developed by Hylton's ministry, which will integrate all the components of the logistics hub initiative.
"While we are moving with alacrity to get the master plan in place ... we don't have to wait to build out the three core elements" of the project, Hylton said.
mcpherse.thompson@gleanerjm.com
Budget Debate schedule of presentations
April 18: Dr Peter Phillips, minister of finance, planning and the public service
April 23: Audley Shaw, opposition spokesman on finance
April 24: Phillip Paulwell, minister of science, technology, energy and mining; Edmund Bartlett, opposition spokesman on tourism and travel service development
April 25: Andrew Holness, opposition leader
April 30: Prime Minister Portia Simpson Miller
May 1: Phillips closes the debate
By Gavin van Marle in Amsterdam
11.28.2012 · Posted in Loadstar posts, Sea Add to favorites
Hapag-Lloyd
Shipping lines could save millions of dollars in fuel costs if time spent in ports was decreased by even the most marginal amounts, claims new analysis from container shipping consultancy SeaIntel.
The company, in conjunction with industry group the Global Institute of Logistics and software provider Cirrus Group, set out to discover what the effects would be on a scheduled liner service if the time it took for a port to berth a vessel was incrementally reduced. The study focused on time savings that could be made through the optimisation of the berthing process, from the point a ship arrives, on time, at its station.
The results are nothing less than startling. By reducing the berthing time of a vessel in and out of ports, an extra lag is created in the liner's schedule which the shipping line can use to slow down the vessel en route to its next port of call by the equivalent amount of time saved in the previous port.
"If the berthing process is systematically reduced in a given port, this will allow vessel operators to slow their vessels down slightly, and still be able to berth in a timely fashion. Of course, this is only possible if the process improvement is a genuine time saving, and hence the port changes the time set aside for the berthing process," the paper says.
The study had to make a few assumptions, given that the possible financial savings made by carriers would be derived from subsequent fuel savings made by being able to cut vessel speeds between ports. In this case, it used the fuel consumption data for the 11,400teu CMA CGM Andromeda.
The cost of fuel consumption does not work in a linear fashion – the savings made from reducing a vessel from 18 knots to 17.9 knots are greater than reducing from 14 knots to 13.9 knots. So the savings made by shipping companies on fuel costs depend on the speeds that the ships are able to reduce from. If a port was able to reduce berthing time by two hours, which was then built into a 200-mile trip to the next port, the line would save $2,000 per port call if the vessel was steaming at 14 knots, and nearly $6,000 if it was steaming close to 19 knots.
But when this type of saving is multiplied across a scheduled container liner service, where vessels of identical size would be calling at the same port on a weekly basis and steaming at the same speeds, SeaIntel calculates that a 11,400teu vessel would see annual savings of between $150,000-$300,000, depending on the currently scheduled speeds, at that one port – although there appears to be something of a ceiling on savings, depending on the distances from the previous port in the string.
"We find that savings tangentially reach a maximum level after a certain distance. However, that distance depends on the time saving obtained in the port. Generally we find that more than 90% of the savings are obtained with a port-to-port distance below 500-600 miles," it said.
Nonetheless, if berthing time reductions can be achieved across a string of ports on a particular service, the savings can be magnified. A typical Asia-Europe service calls at eight to 12 ports. If five of those ports can reduce berthing times by half an hour, the study concluded that almost $10m can be saved annually from reduced fuel consumption on the trade as a whole. If those five ports can reduce berthing times by three hours, the annual savings on the trade would jump to $40m.
The next step was to extrapolate that calculation out to the global liner industry, with the result that if five ports per string were to reduce berthing times by three hours the industry would stand to save $180m by improved optimisation of slow-steaming techniques.
Clearly, the actual savings remain hypothetical – sailing speeds vary according to a variety of factors; fuel consumption depends on the ratio of laden and empty containers; port productivity can vary wildly and so on – but the potential benefits to the liner shipping through even marginally improved, but consistent, berthing efficiencies are huge, and would give ports an important competitive tool.
"A port which improves berthing times by a few hours can easily argue that instead of offering a carrier a reduced handling charge, the carrier is getting the value straight from the bunker fuel savings," it concluded.
3 Responses to "Shipping lines could save $10m by cutting 30 minutes off port calls"
1. Kevin monteath says:
With the ships getting bigger, and the old system of joint service, this time saving will not be possible at ports. The shipping giants need to address these points of port services in respective countries. Bigger and more containers, and joint service with partners bring in more cargo, hence the port authorities need to understand this and bunker cost. I am sure the pencil can be sharpened to save shipping lines millions of dollars… My views..
2. Mike Harrison says:
If you want to save time when berthing, the pilot and master must have confidence in the approach manoeuvre, should know the permitted berthing speeds and angles of the installed fenders, and have the right Portable Piloting Units (PPUs) to see the full picture. The cost is peanuts compared to the savings on more efficient operations. At Inshore Systems we advise clients on reducing risks and cost without compromise.
Perhaps container lines should consider equipping pilots with PPUs as well as reviewing the fenders on the berths they use. Small investments will pay large dividends.
3. Ted Daly says:
The real savings comes about by evaluating and determining the best schedule to keep for the entire round trip voyage of the vessel. While I agree pilot time and maneuvering are two critical components of a port stay, many times there is little to no opportunities to save enough time to justify slow steaming unless you have a good amount of pilotage time, considered over 2 hours in duration. Most pilots and vessel captains work hand in hand to get the vessel quickly to the dock, as long as the weather conditions allow for that safe transit. So it is hard to find more time there.
The real savings comes at the dock. Vessel clearance by authorities can take up to 2 hours in some locations. Stevedoring time or the production and the number of gangs put on the vessel upon arrival also is a contributing factor. With ever larger move counts and larger vessels stowage planners need to know each port limitations intimately and make sure the vessel is stowed in the most efficient manner to allow for the most gangs and best productivity, decreasing the total port time. As an example, with a move count is 3,500 and 4 gangs to total port stay would be 35 hours, at 25 GMPH/Gang. With the same move count and production with 6 gangs you can save almost 12 hours of port time. This can be a more realistic and sustainable time savings opportunity than just saving 30 min of pilot time or maneuvering time at a few ports of call. Manage to save this kind of time over 8 to 10 port calls and you can save up to 120 hours per round trip, that is 5 days saved, now that is a significant amount of time and the vessel could then save money by slow steaming. Roll it all together, stevedoring time saved, reduce time in port, better pilot times, slow steaming and you can make a significant impact on the overall cost of operating a vessel.
o Rick Eyerdam says:
Your comment is awaiting moderation.
Great comments. Tideworks Technology among others can improve the loading/off-loading configuration and some scheduling. Ted is right on but he needs to take it to the next step in the logistics chain gang. Are there enough roadworthy chassis, TWIC empowered truck drivers, or space to store containers that must wait days for a move? When does demurrage kick in? Are the gates fast enough – in and out — and what about the highways?
Then there are the train intersection issues. In short fast cranes and agile gangs are essential unless the fill the yard so fast the cargo is bogged by its own time-sensitive volume.
These are some of the issues we are trying to reduce to the least common denominator as part of the stand up of the Caribbean Maritime Exchange.
Maersk's decision to cease use of Panama Canal

a crushing blow to Caribbean Basin and Southeast US Transshipment Hopes.
Maersk
has announced that it will stop using the Panama Canal to transport goods from Asia to the US East Coast, as bigger ships, some larger even than Post Panamax, will help the company to generate profit via the Suez Canal.
The last sailing through Panama will be on April 7 and the first service through Suez will be a week later, the company said.
"The economics are much, much better via the Suez Canal simply because you have half the number of ships," Mr Skou said. "One of the reasons for why this is happening now is that the cost for passing through the Panama Canal has gone up. At the end of the day, it comes down to cost."
The decision to deploy some Super-Post Panamax ships from Asia to the US East Coast eliminates today's Panama Canal and the one Panama hopes to open before 2016. The Suezmax vessels are too large for either
Panama Canal configuration.
Worse yet for transshipment ports along the Caribbean Basin and the Ports of Miami, Jacksonville, Savannah and Charleston, these Suez max vessels require even larger berths than Post Panamax, longer crane reach and huge turning basins. And none of the East Coast ports are preparing for this eventuality.
The decision will also be a blow to the Panama Canal Authority which must pay for the over-budget canal expansion from revenues generated by the canal without much of the business of the largest ocean cargo carrier in the world.
What will be interesting to see will be if Maersk goes all out to secure the operation of the Virginia ports where it is bidding for control. Norfolk is already at 50 feet. If Maersk settles on Virginia then invests in the cranes and chassis required to handle the huge fleet it could make Virginia the shipping capital of the East Coast and to the exclusion of all the other contenders

.
Bahamas trade solutions in Caribbean Maritime Exchange
"We must become increasingly aggressive in trade and business promotion. In this vein, I commend the Grand Bahama Port Authority on its recent promotion exercise in Panama and upcoming exercise in Brazil, both of which my Ministry has participated and will be participating in. It is paramount that scarce resources be maximized collaboratively and efficiently to take the message of what The Bahamas has to offer into the regional and international communities," ...Minister of Financial Services, Ryan Pinder
Govt. eyeing strategies to boost sluggish economy
Ashley Penn
FN News Reporter
ashley@nasguard.com
The Bahamas' sluggish economy was addressed yesterday as the Minister of Financial Services, Ryan Pinder shed light on a few of the strategies that the government is currently pursuing in an act to combat the ongoing issue.
"Facing a less than bullish economy, the Government of The Bahamas has acknowledged that new and innovative strategies must be pursued to invigorate the Bahamian economy. These strategies must look beyond our local borders, towards our regional and hemispheric partners in particular, in pursuing opportunities for economic growth and vibrancy," he said.
Pinder added that the Government has cast its eyes outward, embraced regional integration and trade and most significantly, adopted a value-added trade strategy, which is believed will provide the catalyst for sustained economic growth.
He said that the government is looking to focus on trade policy and trade promotion to propel The Bahamas' economy to higher heights.
"The government now seeks to use trade policy and trade promotion to build on the platforms which exist, to forge an environment in which businesses with a commercial presence in The Bahamas may export products and services regionally and internationally. The focus is no longer limited to causing consumers of services to come to us, but has been expanded to include fostering policies which provide for 'Made in The Bahamas' goods and our services to go outward," he said.
However, he added that back in 2008, The Bahamas took a monumental step towards economic regional integration when commitments were made, primarily on trade in goods, under the Economic Partnership Agreement (EPA), the trade agreement between members of the European Union and CARIFORUM, comprising of members of the Caribbean Community and the Dominican Republic.
Pinder also noted that the government finalized the process to complete their commitments under the EPA last October, when the Joint Council of Ministers of Trade under the EPA incorporated The Bahamas' commitments on trade in services and trade in investment into the agreement.
He concluded by saying that the government must take a different approach as it relates to trade.
"We must become increasingly aggressive in trade and business promotion. In this vein, I commend the Grand Bahama Port Authority on its recent promotion exercise in Panama and upcoming exercise in Brazil, both of which my Ministry has participated and will be participating in. It is paramount that scarce resources be maximized collaboratively and efficiently to take the message of what The Bahamas has to offer into the regional and international communities," he said.
The maximization of a value-added strategy was also highlighted as a positive interjection for the economic growth and expansion of The Bahamas, in particular Grand Bahama.
An academic approach to Caribbean Maritime Issues and Solutions: Distance is not everything. Competition is what drives down costs.
The level of development of a country can be expected to be positively correlated with transport service quality. More use of information and communication technologies, better educated populations, fewer accidents and less corruption may all be correlated positively to the GDP per capita, which can thus be taken as a proxy for 'development'.
In the case of countries in the Caribbean basis (Models 16 and 17), it appears that effectively a higher GDP per capita is reflected in reduced freight rates. The difference between the poorest and richest country in the sample is about 10,000 USD. Based on Model 16, it can be expected that export freight rates from the richest country will be 410 USD lower than export freight rates from the poorest country – although there most likely also exists a different causality: Lower freight rates improve a country's trade competitiveness, thus helping to increase its GDP.
A higher service speed (knots) has a price, and SPEED leads to an increase of freight rate of around 39 USD. It is interesting to note that if SPEED is included in the regression together with TRANSITTIME, the estimated parameter for TRANSITTIME also increases (Models 17 and 18). At a slower speed, a longer transit time might actually lead to some fuel savings, reducing the expected incremental impact on the freight rate (Table 9).
Finally, in Model 19, we re-incorporate the variables TRANSHIPA and DIRECTA, which we had already included in Models 9 and 11. The estimated parameter values and their statistical significance are in the same range as before. The issue of transhipment services is correlated with CONNECT and TRANSITTIME, and also with INFRAIMP and INFRAEXP, because the region's main transhipment ports are also those with the best port infrastructure. Hence, the estimated impacts of CONNECT, TRANSITTIME, INFRAIMP and INFRAEXP are somewhat reduced in Model 19. INFRAEXP is in fact no longer statistically significant. Nevertheless, the overall magnitude and direction of impacts remains as before. Model 19 statistically explains more than 60% of the variance of Company A's freight rates for the Caribbean in July 2006, using just six explanatory variables, not including DISTANCE.
SUMMARY OF FINDINGS
Distance is usually assumed to be among the main determinants of transport costs and thus also of the trade competitiveness of countries. For a sample of 189 liner shipping freight rates of one company in the Caribbean, reported in July 2006, the general positive correlation between distance and freight rates is confirmed in principle. However, statistically, distance explains only one-fifth of the variance of the published freight rate and its explanatory value has to be questioned in transhipment markets.
The number of liner shipping companies providing direct services between pairs of countries appears to have a stronger impact on the freight rate than does distance. For routes where there is no company providing direct service, that is, where all containerised maritime trade involves at least one transhipment in a third country's port, freight rates in our sample range from 1,170 to 3,290 USD, with an average of 2,056 USD.
For routes with one to four carriers providing direct services the reported freight rates range from 650 USD to 2,250 USD with an average of 1,449 USD. If five or more competing carriers provide direct services, the freight rate ranges from 650 to 1,730 USD, averaging 973 USD. Statistically, the number of carriers explains around two fifths of the variance of the freight rate.
More detailed analysis suggests that the following variables have a statistically significant impact on liner shipping freight rates in the Caribbean:
transhipment versus direct services;

the number of competing carriers;

an index of liner shipping connectivity;

transit time; and

port infrastructure endowment in the importing and exporting countries.
A model that incorporates the above variables statistically explains three-fifths of the variance of the freight rate. The empirical results support the hypothesis that competition between shipping lines makes shipping services less expensive for the shipper, that is, oligopolistic market structures imply higher costs to shippers.
Transit time is a more precise determinant of transport costs than distance, especially for bilateral trade routes that are not connected by direct services. At the same time trade imbalance is an important determinant of transport costs, implying higher costs for exporters from container deficit regions. A good level of port infrastructure endowment implies a reduction of transport costs. Moreover, transport costs for trade between 'richer' countries are potentially lower.
These results suggest that there exists a potentially virtuous circle, where higher trade volumes and economic development help to reduce transport costs, which in turn helps to promote trade and development. This circular causality could also be among the explanations why the standard gravity model tends to provide biased estimates, overpredicting trade between low-volume traders and to underpredicting trade between high-volume traders (Wall, 2000).
CONCLUSIONS
The analysis of determinants for freight rates of a single company provides new insights on the impact of market structure on maritime freight rates. A less concentrated liner shipping market reduces freight rates for shippers. In a disperse market with low trade volumes on many routes, like the Caribbean, the number of carriers offering direct services in many cases exhibits diseconomies of scale and oligopolistic market structures, which in return induces higher transport costs for trade on the respective routes.
Combining information on the service of the shipping company itself with information on the market structure allowed us to analyse how the freight rates of a single company appear to influence strategic behaviour towards market competitors. Since these strategies are private sector decisions the potential influence of public policies to reduce maritime freight rates as part of trade costs is restricted.
Further, the results show that trade routes with only indirect services (ie including transhipments) induce higher transport costs. The analysis suggests that transhipment has the equivalent impact on freight rates as an increase in distance between two countries of 2,612 km. In the case of the Caribbean this implies that in many cases intra-regional trade between small islands is not competitive as compared to trade for example with the United States, because of the lack of direct services.
These findings support arguments that aim at promoting new innovative short sea shipping concepts in the Caribbean, which offer direct services especially between smaller islands, to strengthen intra-regional trade.
Incorporating effective transit times into the analysis allows to better estimate transport costs for trade flows that include transhipments. This can be seen as an important improvement of previous models, where direct maritime distance was used as a proxy of transit times. The importance of a high degree of connectivity, that is, being relatively central in the Caribbean maritime network, is indicated by the results for the connectivity variables and the impact of network structures should be included in future research. These results also underline the potential benefits for importers and exporters of being based near a transhipment hub.
The level of port infrastructure, such as berth length, storage capacities, maximum draft and port areas, appear to have a significant reducing impact on freight rates. This is important for policy makers, as most of the other variables that determine freight rates are beyond their control. In ports, however, the public sector can make a difference, reducing transport costs and attracting shipping services, thus further improving transport connectivity and trade competitiveness.
Top

of page
Notes
1 Including the following countries: Antigua and Barbuda, Barbados, Belize, Colombia, Costa Rica, Dominica, Dominican Republic, Grenada, Guatemala, Guyana, Haiti, Honduras, Jamaica, Mexico, Panama, St Kitts and Nevis, St Lucia, St Vincent and the Grenadines, Suriname, Trinidad and Tobago, Venezuela, RB.
Top

of page
Acknowledgements
We acknowledge important contributions in putting in the data gathering and initiation of this research by Lester Hernandez, during his internship with UNCTAD in summer 2006, and Omar Salgado, S&W Maritime Knowledge Network, for gathering data on the structure of liner services in the Caribbean.
Study: Shippers Need Better Systems to Optimize Freight

JOC Staff | Feb 12, 2013 9:07AM EST

Only 59 percent of shippers use performance metrics to manage freight costs, and only 43 percent are currently running or planning to implement a transportation management system, according to a recent survey of more than 400 logistics managers by U.S. Xpress Enterprises.

The survey, conducted in conjunction with Peerless Research Group, also showed that nearly three-fourths all shippers prefer that their carriers use present, actual shipping data, rather than historical data, to set their rates, with less than one in five favoring the use of historical or static data.

"The survey demonstrates that there is great variance among shippers in terms of the level of technology they employ in doing freight optimization," said John White, executive vice president of sales and marketing at U.S. Xpress Enterprises, in a written statement.

"However, regardless of what systems they are currently using, it is clear that more widespread and efficient use of transportation management systems, clearer supply chain visibility, improved analytics, enhanced cooperation and data sharing between carriers and shippers and more up-to-date data could go a long way toward optimizing loads and reducing costs for everyone involved," White added.

Top Five Import Compliance Challenges Affecting International Trade

Trade professionals face many challenges when trying to stay compliant to International Trade law. As globalization increases, so does the complexity associated with doing business across borders. Here are the top five challenges affecting International Trade today.

5. Getting Accurate Customs Valuation

The trouble with getting an accurate valuation for Customs is in getting all pertinent background information for the product. Minor transactions can qualify as assists by Customs. The term "assist" describes something of value that a supplier receives from a customer that aids in the production of goods that are subsequently sold/shipped to that customer. Examples of assists include molds, production tools, raw materials, supplies and parts used in to produce the final product. The value of the assist needs to be added to the transaction value when calculating customs value.

Sometimes identifying these assists is very difficult. Those involved in the manufacture or purchase of a product are not even aware that some items potentially qualify as assists. Therefore it takes considerable effort to gather all the information necessary to calculate the transaction value for Customs.

4. Inaccurate or Unclear Commercial Invoices.

Commercial Invoices should include a precise description of the goods as well as contain all the information needed to fulfill origin and destination country requirements. This includes the HS number for the goods being sold, number and export/import license information. Many foreign countries have specific requirements relating to commercial invoices to enable customs authorities to assess correct customs duty.

Often the detailed description of the goods is inaccurate or too general. Many companies use generic names such as "machine equipment" or "machine parts" etc. They often fail to stipulate the kind of "machine" that the parts are for. This makes the job of a Broker very hard, since it is impossible to determine the end-use of the goods.

3. There is also lack of consistency in how imports are regulated between all countries that belong to WTO.

The interpretations of WTO rules vary widely among countries. Some countries interpret and implement the WTO rules strictly while others pay lip service. The result is global trade barriers remaining in place due to subsidies and other support received by manufacturers and exporters in other countries.

There are many variables that create problems with interpretation. The lack of a well developed legal system, lack of implementation of existing laws and lack of respect for intellectual property etc. all give rise to more favored treatment for exporters in other countries at the expense of exporters in the US. Further the existence of corruption in some countries means that their companies are better poised to be able to pay lower import duties and compete for orders without being hampered by legislation similar to the FCPA. Political posturing and pandering to vote banks creates inconsistencies in implementation of many WTO Rules in several countries.

2. Still lots of trade barriers and also how anti-dumping/countervailing duty cases are reactive as opposed to a forward looking.

Businesses/importers face a lot of uncertainty because they always have to look in the rearview mirror. This combined with the fact that many U.S. regulation bodies lack intra-agency cooperation and communication amongst themselves. This creates an inefficient and uncertain environment for International Trade.

1. Getting the HS classification correct

Considering that all other regulations, restrictions and OGA requirements are triggered by the HS code, this is really the biggest challenge in the industry. Proper classification using GRIs is rapidly becoming a lost art. Computerized/Automated classification programs give a false sense of security to the inexperienced and unskilled.

One only needs to look at the preceding challenges to see why classification can be difficult for even seasoned veterans. Insufficient information from businesses about their goods (#4) and inconsistent interpretations of rulings (#3) create confusion, ergo improper classifications. The "harmonized system" is rarely completely in harmony across borders. Some countries still haven't implemented the 2012 reformed harmonized nomenclature.

Conclusion

For all of these reasons, it is important to rely on the judgment of a seasoned professional. But even seasoned professionals need accurate and up-to-date data to make correct decisions. CUSTOMS Info and Global Data Mining offer data solutions and support for classifying goods correctly for nearly any country on the planet. And this and a wide range of other services are typically offered as part of the robust Maritime Exchange.

Caribbean maritime infrastructure needs overhaul to keep pace with global supply chain, says new CIGI paper

The Centre for International Governance Innovation's (CIGI) latest Caribbean paper proposes nine policy recommendations for the region's maritime industry.

Caribbean maritime infrastructure "needs to undergo a major physical, legislative and labour practices overhaul" in order to be sustainable and efficient, says a new paper by The Centre for International Governance Innovation (CIGI).

In The Caribbean Maritime Transportation Sector: Achieving Sustainability through Efficiency, Fritz Pinnock and Ibrahim Ajagunna say "it is not surprising that handling charges are two or three times higher than in similar ports in other regions of the world, and the overall cost of transportation and infrastructure in the Caribbean basin is some 30 percent higher than the world average." The efficiency of these ports, caused by fragmented approaches to developing them, has serious economic consequences because 90 percent of imports and exports are carried by sea.

Pinnock, who is the executive director at the Caribbean Maritime Institute, and Ajagunna, who is the immediate past president of the Council of Heads of Caribbean Hospitality Schools in Jamaica, used primary and secondary research to analyze labour challenges and efforts of regional cooperation among other port-related indicators of efficiency."The region has not capitalized on the opportunities to use maritime transportation as a development tool," the reports says. "Advancements in technology and skills have today placed the Caribbean in catch-up mode, as most reforms have been cosmetic, and do not address the real need to overhaul the entire infrastructure and take a holistic approach to positioning the Caribbean within the global logistics and supply chain."

This Caribbean Paper Series paper includes nine policy recommendations for the Caribbean:

Adopt an integrated assessment approach to strategic decision making

Adopt a regional approach to safety and security regulations and monitoring

Align labour market regulations to global standards

Harmonize maritime transport industry legislation

Ensure maximization of public benefit through public expenditures

Conduct regionally collective economic, social and environmental impact studies to guide investment and development

Implement landlord model to improve port efficiency

Countries should fully consider the risks and benefits of transhipment business as it may not be right for all

Pursue cooperation between sub-regional organizations, institutions and member governments through access to data and research etc.

To access the full paper, please visit: http://www.cigionline.org/publications/2012/3/caribbean-maritime-transportation-sector-achieving-sustainability-through-effici. CIGI's Caribbean Economic Governance Project convened researchers and leaders within the private and public sectors to examine current economic governance challenges facing the Caribbean region. The Caribbean Papers were initially presented at CIGI workshops.

Survival is topic facing Caribbean leaders in Suriname

SURINAME -- The 15-member Caribbean Community opened a two-day conference in this South American nation Thursday focused on the organization's future and a growing disillusion with the regional body nearly 40 years after its formation.

"Change is in the air for our community," Irwin LaRocque, secretary general of the Caribbean Community, or Caricom, said in his opening remarks. "A new culture must be injected into the organization....We must all be prepared."

LaRocque, presiding over his first Caricom meeting as secretary general, sought to put a positive spin on the crisis facing the group.

A report commissioned by the body has raised serious questions about its existence and future, saying its Guyana-based secretariat has lived "hand-to-mouth" and "in the absence of fundamental change, it is more likely that Caricom will expire slowly, over perhaps four or five years," the authors wrote.

Welcoming the mostly English-speaking group to this former Dutch colony, Suriname President Desi Bouterse said leaders must find the political will to bring about change.

"The obstacles that are hindering our people are not of their making,'' Bouterse said. "And so we as governments must not merely commit to paper rights, but be bold enough to find new ways of working together, rationalizing production. We must nurture our interdependency and cut the ties of dependency. We must draw on our history and build on our diversity."

On Wednesday, country representatives spent hours debating recommendations on how to survive. Among the issues: closing the Haiti-Caricom office due to budget constraints.

Discussions also centered on Cricket, the region's most popular sport and the Cricket governing body. Some member states have been unhappy over decisions made by the West Indies Cricket Board.

Both the prime ministers of Jamaica and Trinidad and Tobago – the only two women among the 15 heads of government – promised to offer vigorous opinions on the matter. Caribbean nations spent millions on new stadiums and infrastructure upgrades for the Cricket World Cup games in 2007.

"We should hold the organizations accountable," said Jamaica Prime Minister Portia Simpson Miller, who returned to power in December after her opposition party defeated the ruling Jamaica Labor Party.

Caricom members also welcomed newcomer, Guyana President Donald Ramotar and the return of St. Lucia's Kenny Anthony after his party's win at the polls.

Absent from the forum are leaders of Grenada, The Bahamas and Haiti.

Bahamian Prime Minister Hubert Ingraham is preparing for re-election, and Haiti President Michel Martelly remained home to address the prime minister vacancy.

John P. Alexis, Haiti's special Caricom envoy, represented the government at the gathering.

Read more here: http://www.miamiherald.com/2012/03/08/2682893/survival-is-topic-facing-caribbean.html#storylink=cpy

Jamaica Pushes Regional Agenda

With just 100 days since taking office, the new Minister of Foreign Affairs and Foreign Trade, Hon. A.J. Nicholson has already made notable strides in the areas of regional cohesiveness, international partnership and foreign trade policy review.

His first major assignment following being sworn in as Minister on January 6 was the 7th UK/Caribbean Forum, held in St. Georges, Grenada from January 20 to 22.

Under the theme 'Sustainable Growth toward Prosperity', high level delegations engaged in wide ranging and frank discussions on major areas of cooperation, trade and investment, security and climate change and sustainable development foreign policy issues.

On his return to Jamaica, the Minister disclosed that the UK had pledged to make available £75 million to assist with development projects within the Caribbean region over a four year period.

Senator Nicholson said it is hoped that the injection of funds would help to build resilience through the development of practical mechanisms that would boost growth in investment, employment, production and trade opportunities that would enhance the prospects of the people of the region.

He noted that this was one of the major outcomes of the meeting, which represented an agreement between the delegates from the Caribbean and the UK to establish a strategic partnership to promote prosperity, growth and development.

In addition to the political dialogue, a significant aspect of the forum was the two parallel meetings on security and trade and investment, both of which identified practical areas for cooperation between the UK and the Caribbean, Senator Nicholson also informed.

"It should be stressed that at the outset of the meeting, the Caribbean insisted that there should be tangible outcomes of the forum, which would have an impact on development at the national and regional levels," he said. "We therefore adopted a plan of action that identifies concrete areas of cooperation in this new strategic partnership and areas for joint activities."

Senator Nicholson also disclosed that representatives from the UK and the Caribbean region also agreed /Caribbean Expertise Exchange Mechanism on the establishment of a UK to further collaborate on the fight against drugs and international crime.

He informed that the discussions produced positive results, including a further commitment from the UK to assist the region in addressing youth crime, gangs and violence, and to enhance the capacity of the juvenile justice system in the Caribbean.

"There was recognition that the fight against transnational organised crime must involve other partners and so there was agreement to establish, with the full collaboration of the United States, a regional network of land-based law enforcement units to conduct land-based surveillance and interdiction operations," senator Nicholson said.

He also informed that in the area of trade and investment, special attention was paid to support for the private sector, with particular emphasis on small and medium sized enterprises.

There was agreement on the need to improve access for Caribbean goods and services to the European Union, including a marked reference to the implementation of the Cariforum/EU Partnership Agreement that was signed in 2008, the Minister said.

On the matter of Climate Change, he disclosed that the UK recognised the region's strong voice on the issue and there was an agreement to collaborate closely in international fora.

"We therefore pledged to work together to secure an agreement by 2015 for enhanced action on a comprehensive, legally global agreement," he said.

Efforts will also be made to develop a long-term strategy on energy security for the region with an emphasis on renewable energy and green technology, the Minister also informed.

Also in January, some 63 resident and non-resident Ambassadors, High Commissioners and Charge d'Affaires participated in the 14th annual Diplomatic Week.

Director of Protocol in the Ministry, Ricardo Allicock said this was the largest contingent of non-resident Heads of Mission to visit Jamaica during Diplomatic Week in recent time.

During the week, 13 Ambassadors and High Commissioners, who were newly appointed, took the opportunity to present their credentials to the Governor-General and the Foreign Ministry.

Activities for the week included a church service, a cultural evening to showcase Jamaica's cultural heritage, and briefings by Prime Minister, the Most. Hon. Portia Simpson Miller and other Cabinet Ministers, to raise awareness of Jamaica's policy regarding economic development and other issues.

The week's activities culminated with an excursion to Appleton Estate on Friday (Feb. 3), which exposed the diplomats to aspects of Jamaica's commercial and economic development.

Additionally, within the first 100 days in office, Minister of State in the Ministry, Hon. Arnaldo Brown made significant strides in efforts to complete the review and revision of Jamaica's Foreign Trade Policy.

Jamaica's trade policy was last reviewed in 2001, over 10 years ago. The State Minister pointed out that a number of developments have occurred in international trade since then at the bilateral, regional and multilateral levels.

Mr. Brown said Jamaica's revised trade policy will take into account all the changes, which have occurred over the last few years, in order to ensure that the country's trade policies are in line with the rest of the world.

He said the Draft Trade Policy is therefore comprehensive, addressing goods and services, as well as a wide range of trade related measures such as intellectual property rights, international standards, investment, non-tariff measures and trade financing, arising from an increasingly complex trade agenda.

Mr. Brown also noted that it is important for implementation that trade is integrated or mainstreamed into the National Development Plan - Vision 2030 and that there is policy coherence.

In March, the Ministry launched 'Jamaica 50 Canada' at the Government Conference Centre in Ottawa, Canada.

Senator Nicholson, who delivered the keynote address at the opening ceremony, noted that the launch represented the "largest gathering of the Jamaican community in one place, anytime, anywhere in Canada," and that this "represents a reaffirmation of the links between Canada and Jamaica."

Having made the point that Prime Minister Portia Simpson Miller lends her "full support to the Jamaican Diaspora in its activities in commemoration of the 50th Anniversary of Jamaica's Independence," Minister Nicholson noted that Canada was the first of three countries with which Jamaica established diplomatic relations on its assumption of Independence.

"Our relations with Canada are among those of which we are justly proud. I am happy to say that fifty years of relations have brought rich benefits to both sides." He also noted that "these relations will go well beyond those 50 years."

By Athaliah Reynolds-Baker, JIS Reporter

Minister wants integrated look at tackling crime

National Security Minister John Sandy yesterday urged a more integrated approach in combating crime, especially as it relates to border security. Sandy was speaking at the opening ceremony of a counter-terrorism training programme at the Police Service Academy, St James. Personnel from various arms of local law enforcement are undergoing a two-week course led by the Galilee International Management Institute, an Israeli public training institution.

The initiative targeted members of the Defence Force, the Police Service, emergency-management agencies and the private security industry. In the Caribbean basin, Sandy said, the challenge of avoiding the illicit scourge of the narcotics trade and the laundering of funds, as well as other international criminal activities, had been amplified by globalisation.

"Links between the trafficking of drugs, guns and ammunition and other forms of transnational crime call for a more integrated approach to address this nexus," Sandy added. He said the Caribbean community, as well as a Caricom Council of Ministers responsible for national security and law enforcement, had recognised the need for such an integrated approach in tackling crime.